News
4/16/2015
Some governors push back over McConnell letter to defy EPA
By RIK STEVENS
CONCORD, N.H. (AP) -- Senate Majority Leader Mitch McConnell's call for governors to defy proposed federal rules to limit pollution has been met with mostly silence, but leaders in downwind New England states and drought-stricken areas in the West are pushing back.
The Kentucky Republican wrote to all the nation's governors in March after the Environmental Protection Agency proposed a rule to limit carbon pollution from existing coal-fired power plants. McConnell said he thinks the rule is illegal and, if enacted, would hurt the U.S. economy and kill energy jobs.
Democratic Vermont Gov. Peter Shumlin was blunt in his response to McConnell. Read more >
4/14/2015
Emissions Yesterday, Today and Tomorrow: Where We've Been
by Rolf Lockwood
After well over a decade of endless wrangling over emission-control technologies and nonstop complaints on the user side about cost and reliability issues, things have gone quiet on the engine front. It hasn't been this way since the U.S. Environmental Protection Agency started tinkering with things back in the 1990s.
In fact, the EPA was at it as early as 1974, though the broad and heavy crunch came later. It really began in 1997 when the EPA set the standard for model years 2004-06.
But after all the trouble and woe brought on then and later with the 2007 emissions regime, which linger on for many of you, the 2010-spec heavy-duty diesel has proved to be a huge improvement in terms of both reliability and fuel economy. Read more >
4/14/2015
Rebranding the EPA's clean air agenda
By Chris Horner
On Thursday, the U.S. Court of Appeals for the District of Columbia will hear an important case, Murray Energy v. EPA, regarding what used to be the Environmental Protection Agency's global warming agenda. At issue are sweeping rules that amount to rewriting the Clean Air Act, an effort made necessary when Congress, via the proper democratic process, rejected turning that act into a global warming law for rationing our most abundant sources of energy.
The reason behind Congress rejecting the scheme also explains President Obama's effort this past week to sway the court, indicating in an interview widely promoted by the White House that global warming possibly caused his daughter Malia's asthma.
This may seem a stretch given that since Malia was born in 1998, the earth has experienced no increase in mean temperature. Such a link is at best highly tenuous, particularly given that one of Malia's parents (Mr. Obama) was a smoker. Read more >
4/13/2015
California Energy Commission Grants Millions for Alt-Fuel Sector
by NGT News
The California Energy Commission (CEC) has approved a number of grants for the alternative fuels sector and given the OK to a 2015-2016 investment plan update for the commission's Alternative and Renewable Fuel and Vehicle Technology Program (ARFVTP).
In total, the CEC approved more than $83.7 million in grants and loans for 46 different energy-related projects.
For the alt-fuel sector specifically, it gave nearly $9 million to three awardees in Poway, the City of Industry and Milpitas to encourage the manufacturing of alternative fuel vehicles and vehicle components in California. Read more >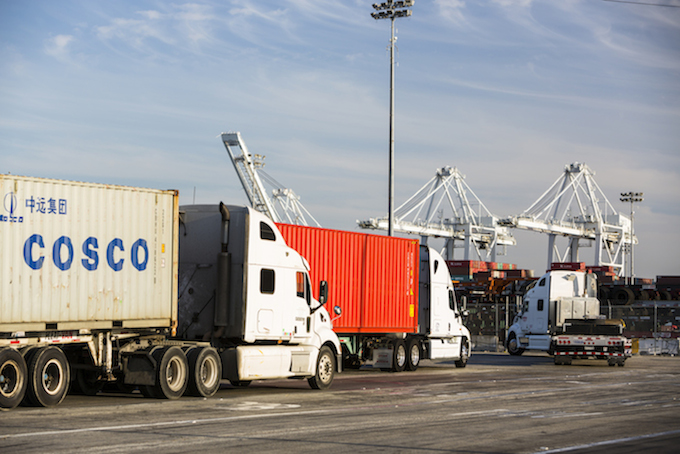 4/10/2015
California green port, truck, rail programs lauded in reducing emissions
by Bill Mongelluzzo
Green programs implemented by the port, trucking and rail industries in California have contributed mightily to harmful emissions reductions in the state over the past 20 years, according to a University of Southern California study published last month in the Journal of the Air and Waste Management Association.
The study covers pollution from all mobile sources, including the worst offender, private automobiles, and freight transportation-related emissions are but one piece of a larger picture. Nevertheless, the message for container ports, the trucking industry and intermodal rail operators across the country is clear: Emissions-reduction programs work.
For example, nitrogen dioxide, which is a by-product of engine combustion, decreased by 28 to 53 percent between 1994 and 2011 in communities from San Luis Obispo on the Central Coast to San Diego. Inhalable particulate matter, which are microscopic pieces of dirt floating in the air, decreased by 13 to 54 percent in the region. Those pollutants are directly linked to a host of respiratory illnesses such as asthma, heart disease and cancer. Read more >

4/8/2015
Oregon Looks to Catch Up with California's Standards on Diesel Engines
by Chris Gray
New diesel engines are very clean, but old ones linger in Oregon, and the state is at risk of becoming a dumping ground for trucks that California doesn't want, given its phase-out of older engines.
California passed regulations that will phase-out older, dirtier diesel engines from its roads and industrial areas by 2023.
Now Oregon is considering similar regulations -- not necessarily because the state is an environmental leader, but because it's at risk of becoming a dumping ground for all those engines that next-door-neighbor California doesn't want. Read more >
4/2/2015
CARB-Type Regs Could Spread to Other Jurisdictions
By Deborah Lockridge
California fleets that have had to fork over funds to buy new cleaner-burning trucks or retrofit with diesel particulate filters may well have a leg up over the rest of the country under the Environmental Protection Agency's upcoming rules.
That's according to my colleague Chris Brown, executive editor of HDT sister publication Business Fleet.
In a recent blog post, Brown points out that the federal government is tightening the Clean Air Act, and the new standards will catch in its net many more jurisdictions around the country. Read more >
4/1/2015
The proposed Phase 2 greenhouse-gas emissions rule for medium- and heavy-duty vehicles, originally planned for publication in March, has been delayed until June, the Environmental Protection Agency announced.
The proposal was sent for White House review on March 27, according to EPA's Regulatory Development and Retrospective Review Tracker.
The joint EPA-National Highway Traffic Safety Administration proposed rule will address fuel-efficiency standards for medium- and heavy-duty on-highway vehicles for model years beyond 2018 but likely would not take effect before 2020, according to EPA.
The Phase 2 rule will follow the first-ever greenhouse-gas emissions and fuel-efficiency standards issued in 2011.While the Phase 1 rule addressed engine technologies to reduce emissions, the Phase 2 rule is expected to include technologies for new trailers. Read more >
Spike In California Air Pollution Brings Reminder Of Bad Old Days
By Sharon Bernstein
KINGS COUNTY, Calif., March 27 (Reuters) - The brown haze over California's San Joaquin Valley breadbasket on some winter days has been an unwelcome reminder of the bad old days, when pollution hung so thickly that people were warned to stay inside.
Years of tight environmental rules improved California air quality so much that the state has not issued a smog alert in a dozen years. But prolonged drought and warmer temperatures have triggered a spike in the number of winter days thick with soot and dirt, while summer days have been marred by smog.
Read more >
3/30/2015
Personal accounts drive CARB hearings
By Betty Plowman
The coordination hearings that took place March 13-14 in Fairfield not only revealed that the California Air Resources Board failed to "coordinate" the implementation of its regulations on trucks with local governments, but they revealed that the board's regulations were arbitrary, unreasonable and are unsupported by scientific data.
CARB's duplicity and rigidity has devastated small businesses and families throughout the state and will continue to do so unless it is held accountable.
Personal testimonies of truckers during the hearings were heart-wrenching. Families that have been in the trucking business for generations, had paid for their equipment, built a successful business and planned for retirement are seeing it stolen from them by an out-of-control bureaucracy. Read more >
3/27/2015
New Bill Proposes $5,000 Fine For Diesels 'Rolling Coal'
by Jeff Cobb
A proposed law against diesel drivers who are caught "rolling coal" would fine them up to $5,000 for this increasingly popular practice of tampering with emission controls.
While some in the world are trying to go zero or partial zero emissions, others are finding it a new pass time to modify their trucks to spew heavy black soot and smoke in this practice reminiscent of an old time freight train. Read more >
3/24/2015
ATA Joins Suit Against Oregon's Clean Fuels Program
By Truckinginfo.com
The American Trucking Associations has joined a lawsuit against the state of Oregon to block the state's low carbon fuel standards. ATA joins the American Fuel and Petrochemical Manufacturers and the Consumer energy Alliance in the suit.
ATA is against the Oregon Clean Fuels Program, which it says unfairly benefits Oregon's biofuels industry and harms out of state refiners and producers. The program will regulate the entire carbon lifecycle of fuel sold in the state. ATA contends that would be in violation of the Commerce Clause. Read more >
3/23/2015
Paris will ban half of all cars from driving Monday to combat pollution
By Jon Terbush
Beset by worrisome smog, Paris on Monday will ban half of all personal vehicles from the streets, Mayor Anne Hidalgo said Saturday.
Only cars with odd-numbered plates will be allowed on the streets unless they are carrying more than three people. Electric and hybrid vehicles will still be permitted regardless of plate number, as will, of course, emergency vehicles. As for those who will be forced to leave their cars at home, public transit in and around the city will temporarily be free.
Last March, Paris imposed a similar one-day ban on half the city's cars. The new ban comes after the city's air pollution spiked high enough last week to (briefly) become the worst in the world. Read more >


3/20/2015
The California Air Resources Board is offering multiple classes for truck owners and drivers to learn more about the state's emissions regulations.
In an effort to help educate the trucking community about emissions rules compliance, CARB will host on-site classes and a few webinars that truckers and others can watch anywhere with an Internet connection.
CARB will host Course 514, Truck and Bus & Tractor-Trailer GHG Regulations Overview, Compliance and Reporting multiple times in March and April. Read more >
3/18/2015
Imports plunged at West Coast ports amid labor dispute
By Chris Kirkham
Months of congestion at West Coast ports -- the result of a labor dispute and other logistical problems -- led to major shifts in U.S. trade patterns.
Import data for the first two months of this year show that the volume of container cargo coming into West Coast ports plummeted nearly 18% compared with the same period last year, according to the trade research firm Zepol. At the same time, the amount of cargo coming into East and Gulf coast ports grew by 10%.
Import data for the first two months of this year show that the volume of container cargo coming into West Coast ports plummeted nearly 18% compared with the same period last year, according to the trade research firm Zepol. At the same time, the amount of cargo coming into East and Gulf coast ports grew by 10%. Read more >
3/16/2015
It isn't every day that a California Air Resources Board staff member can tell truck owners they may be able to spend less money than expected to comply with a state emissions regulation.
The good news explains the excitement coming through the phone line from CARB Staff Air Pollution Specialist Rod Hill concerning Transportation Refrigeration Units, or reefers.
"What we're trying to make sure happen is to make sure these folks are aware that engine replacement as a compliance option has gone away," Hill told Land Line Magazine. "The good news is, it's actually cheaper to retrofit than replace the engine."
"The compliance costs have effectively gone down," he said. Read more >
3/16/2015
FedEx, Walmart, Coca-Cola, PepsiCo and UPS — five of the country's biggest trucking fleets — could cut their fuel use by 500 million gallons a year under the new heavy duty truck fuel efficiency standard, saving $1.7 billion on fuel, according to a Union of Concerned Scientists study.
The EPA and National Highway Traffic Safety Administration are expected to announce the standard this spring.
According to the study, Engines for Change, if today's trucks met a 40 percent standard, oil use would be reduced by 9 billion gallons from shipping goods alone, saving truckers $30 billion in fuel costs and cutting more than 110 million tons of CO2 emissions.
Today's heavy-duty trucks get around 6 miles to the gallon. The freight fleet uses 21 billion gallons of fuel a year.
The report says technology exists to make new trucks 40 percent more efficient compared to 2010 levels, in a cost-effective way. Read more >
3/13/2015
Backyard burger and wiener roasts targeted by EPA
By Paul Bedard
The Environmental Protection Agency has its eyes on pollution from backyard barbecues.The agency announced that it is funding a University of California project to limit emissions resulting in grease drippings with a special tray to catch them and a "catalytic" filtration system.
The $15,000 project has the "potential for global application," said the school.
The school said that the technology they will study with the EPA grant is intended to reduce air pollution and cut the health hazards to BBQ "pit masters" from propane-fueled cookers. Read more >
3/9/2015
CCTA Will Appeal CARB Decision to Supreme Court
By Steven Martinez
The California Construction Trucking Association has stated it will appeal the decision handed down by the U.S. Court of Appeals for the Ninth Circuit that rejected CCTA's lawsuit challenging the legality of truck and bus regulations implemented by the California Air Resources Board.
This is the second time CCTA has lost a legal decision over this suit. The association originally filed suit in 2011 in state district court to stop the regulations from taking effect. In its argument, CCTA cited the Supremacy Clause of the U.S. Constitution and the Federal Aviation Administration Authorization Act. Read more >
3/5/2015
Truck Rules All Around? Tightening Ozone Standard May Squeeze On-Road Trucking Fleet in US.
By Matt Schrap
Lost within the debate over energy policy and climate change is the tightening ozone standard and how this may impact the on-road trucking fleet in many states across the county. The plan is under scrutiny from Congress, but not because it will impact truck fleets, but because refineries and power providers will more than likely face increased costs and possible layoffs.

A newly formed subcommittee called the Interior Subcommittee of the Oversight and Government Reform Committee has been tasked in part to keep a close eye on the Environmental Protection Agency. One thing they will be looking at besides keeping a watch on EPA management and the national park maintenance backlog will be the tightening Ozone standard. Read more >
3/5/2015
Improvement In Southern California Air Quality Results In Healthier Lungs For Children
By Dianne Depra
A 20-year study has found that Southern California children today are breathing easier than their counterparts thanks to cleaner air in Los Angeles.
In a study published in the New England Journal of Medicine, researchers for the University of Southern California Children's Health Study took lung measurements to determine levels of development in children 11 to 15 years old and discovered that those part of the study between 2007 and 2011 exhibited large improvements compared to children at the same age group who participated in the study between 1994 and 1998 as well as 1997 and 2001. Read more >
3/4/2015
The U.S. Just Got One Step Closer To Regulating Airplane Carbon Emissions
by Emily Atkin
The White House received a key recommendation from the Environmental Protection Agency on Monday which could determine whether the agency will place limits on greenhouse gas emissions from airplanes.
According to a report from The Hill, the EPA sent the White House's Office of Management and Budget its draft conclusion on whether carbon emitted from airplanes is cumulatively harmful to the environment. If the EPA's decides that airplane emissions are indeed harmful, then the agency will be required to regulate those emissions under the Clean Air Act.
After the White House reviews the EPA's conclusion, the agency can officially propose it to the public. That is expected to happen by May 2015, with a final decision expected to be made by 2016. Read more >
3/3/2015
TRU -- Engine replacement compliance option expires for model year 2008 and newer TRU (reefer) engines
By rhill@arb.ca.gov
Transport refrigeration unit (TRU) owners need to be aware that the engine replacement compliance option expires for model year
(MY) 2008 and newer TRU engines.

Repowering a TRU ceases to qualify as a compliance option when the replacement engine is no cleaner than the old engine being
replaced. Title 13 California Code Regulations (13 CCR), section 2477.5(i) stipulates that a replacement engine shall meet a more
stringent emissions standard than the engine being replaced. To evaluate if this limitation applies to their TRUs, TRU owners
need to determine what emission standard tier is met by the in-use engine being replaced and compare that to the tier
standard that is met by the cleanest replacement engine that will fit and perform in the TRU.

Examples follow:

1. Trailer TRUs or TRU generator sets equipped with MY 2008 through 2012 Tier 4i in-use engines rated at 25-50 hp: The only
replacement engine that will fit and perform is another Tier 4i replacement engine, which does not result in a cleaner
replacement engine. Therefore, the repower compliance option for MY 2008 to MY 2012 25-50 hp trailer TRU and TRU gen set engines
fails to qualify in 2015.

2. TRUs equipped with MY 2008 and newer Tier 4 in-use engines rated at less than 25 hp: The only replacement engine that will
fit and perform is another Tier 4 less than 25 hp replacement engine, which does not result in a cleaner replacement engine.
Therefore, the repower compliance option for MY 2008 and newer less than 25 hp TRU engines fails to qualify in 2015.

Please be aware of possible cases where TRUs manufactured in 2008 could still use the replacement engine compliance option if they
are equipped with Tier 2 engines:

Case 1: During the first quarter of 2008, TRU manufacturers may have installed MY 2007 engines that were manufactured in the last
few months of 2007, which met Tier 2 emission standards. This lag is allowed for normal production, shipping, and inventory
practices.

Case 2: TRU OEMs may have installed "flexibility engines" into TRUs manufactured during the remainder of 2008 and possibly 2009
for a limited number of engines. Flexibility engines that were installed in TRUs manufactured in 2008 and 2009 have an effective
model year of 2007 and met Tier 2 emission standards.

Flexibility engines have emissions labels that include the
following text: "SELLING OR INSTALLING THIS ENGINE FOR ANY PURPOSE OTHER THAN FOR THE EQUIPMENT FLEXIBILITY PROVISIONS OF 40 CFR 1039.625 MAY BE A VIOLATION OF FEDERAL LAW SUBJECT TO CIVIL
PENALTY."

In-use engines that met Tier 2 can be replaced by replacement engines that meet the cleaner Tier 4i emission standards to
qualify as a compliance option under 13 CCR section 2477.5(i).

It should also be noted that the engine replacement compliance option is not very attractive for TRUs manufactured in 2008 that
are equipped with MY 2007 engines or flexibility engines that have an effective model year of 2007 that must comply by the end
of 2015. Those replacement engines' effective model year is 2012, so the ULETRU compliance deadline would be December 31,
2019, which only results in about four years of compliance before the ULETRU in-use performance standard has to be met. For
example, if a trailer TRU that was manufactured in 2008 is equipped with an MY 2007 original engine, the compliance date is
December 31, 2015 (based on the unit manufacture year). If the owner chooses to repower the TRU with a Tier 4i replacement
engine, the effective model year of the replacement engine is 2012 (the last year that Tier 4i was in effect), and compliance
with ULETRU in-use standard would then be required by December 31, 2019 (seven years after the effective model year). In this
example, the operational life of the replacement engine would only be about four years (from late 2015 to the end of 2019).
What compliance options remain? Retrofitting with a Level 3 Verified Diesel Emissions Strategy (VDECS) may be something to
consider because Level 3 VDECS meet the TRU Regulation's ULETRU In-Use Performance Standard. Another option is to replace the
unit with a new unit.

A Q&A to this effect has been added to TRU Advisory 13-18 (starting on page 7) at:
http://www.arb.ca.gov/diesel/tru/documents/advisory_13_18.pdf .

Where can I get more information?

For general information about the TRU Regulation, the TRU Website is at:
http://www.arb.ca.gov/diesel/tru/tru.htm


2/26/2015
California scientists link tiny particles in car exhaust to heart disease
By Tony Barboza
A new study by California scientists has linked chronic exposure to microscopic air pollutants in vehicle exhaust to deaths from heart disease. The finding bolsters evidence that ultrafine particles, which are not regulated by state or federal environmental agencies, are a key contributor to health problems among people living near traffic.
Scientists analyzed health data from 2001 to 2007 on a cohort of more than 100,000 middle-aged women across California who had worked as school teachers or administrators. They used a computer model to estimate the levels of ultrafine particles the women breathed. Read more >
2/25/2015
Driverless big rigs: new technologies aim to make trucking greener and safer
By Greg Harman
In the opening of Steven Spielberg's 1971 film Duel, an impatient salesman gets stuck behind a rattling, soot-belching tractor-trailer on a lonely stretch of California highway. Just before the truck's driver is revealed to be a homicidal maniac, the salesman has time to gripe about the vehicle's billowing emissions. "Talk about pollution," he coughs as he is enveloped in the rig's thick, black smoke.
Pollution in the trucking industry has long been a public issue, and it's one that certainly didn't end when the first federal emission limits were introduced in 1974. For good reason: heavy- and medium-duty trucks, which include everything from ambulances and garbage trucks to cement mixers and semis, make up nearly a quarter of all US greenhouse-gas emissions from transportation, according to the US transportation department. Read more >
2/24/2015
In last week's column I identified critical mistakes California and its air resources board have made through the years.
My first personal concern arose in 1992. California unilaterally reduced allowable sulfur from 1,500 to 500 parts per million in diesel fuel. That reduction and other untested changes to the fuel formula resulted in fuel seals and hoses leaking and failure of injection pumps and o-rings. This had serious impacts for my construction business and everyone who used diesel-powered vehicles and equipment.
Next, despite warnings from many concerned scientists, the California Air Resources Board gave us the now-infamous gasoline additive MTBE (methyl tertiary butyl ether), which led to the poisoning of our groundwater. California was alone in ignoring the science warnings and was forced by substantial water poisoning to rescind the decision after major expense by the oil industry and all drivers. Read more >
2/23/2015
Truck Fleet Faces $523,675 Fine for Non-Compliance with CARB Rules
When They Find You, They Will Fine You...
By Matt Schrap
This month, CARB fined a Taft, CA based trucking firm over $500,000 for not complying with several HDD programs. Typically, fines of this size have been reserved for importers of non-compliant small engines or manufacturer and distributors of cleaning chemicals and supplies. This recent fine is a blatant signal that CARB is out there and stepping up enforcement activites on motor carriers operating in California.
Although it may take many weeks or sometimes months to reach a "settlement", truck operators should understand that all it takes is one violation to bring down the house. Read more >
2/19/2015
Natural gas trucking fleet could benefit economy, but has mixed environmental effects
By Kat Kerlin


Switching from diesel fuel to natural gas may hold advantages for the nation's heavy-duty trucking fleet, but more needs to be done to reach the full environmental benefits, according to a report released today from the Institute of Transportation Studies at the University of California, Davis, and Rice University.
With the so-called "shale revolution," the recent emergence of natural gas as an abundant, inexpensive fuel in the United States has raised the possibility of a larger shift in the level of natural gas used in transportation. The report examines the economic and environmental viability of such a shift, and whether it could enable a transition to lower carbon transport fuels. Read more >
2/18/2015
How did the port shutdown affect L.A. air quality?
By Tony Barboza


Dozens of ships backed up off the Los Angeles and Long Beach ports in recent days, unable to unload cargo because of a protracted labor dispute. Work resumed at the ports Tuesday, but the slowdown in shipping traffic raised concerns that emissions from waiting vessels would degrade Southern California air quality.
Here's what you need to know about how congestion at the nation's busiest port complex affects air quality. Read more >
2/17/2015
NOx, Ozone and Soot! Oh My!
By Matt Schrap

The industry is headed back down the regulatory road, whether we know it or not
In California, a good portion of the industry is still recovering from the first round of CARB imposed truck turnover requirements. With recent developments it is likely that more is still to come. In fact, portions of the industry are going to be facing down a whole new set of requirements within the next 10-12 years, maybe sooner.
With the imminent lowering of the Federal Ozone standard and most recently the SCAQMD estimating that it will not be able to meet 2015 PM standards, the industry is going to again be brought into the discussion for additional emissions reductions to help meet state, federal and local standards. In all honesty and speaking frankly, they never left the discussion or in other words, no rest for the weary. Read more >
2/12/2015
New mobile air pollution monitor being tested in Los Angeles
By Jed Kim


The ability to identify pollutants in the air is made difficult by changing conditions and the fact that harmful substances are usually invisible to the naked eye. A new vehicle being tested in Los Angeles may change how air monitoring occurs by providing real time data of toxic substances in the air. Read more >
2/10/2015
Southern California expected to miss 2015 deadline to curb soot
By Tony Barboza



Southern California is likely to miss a 2015 deadline to clean soot from the air, according to the region's chief smog-fighting agency, which approved a plan Friday blaming the drought for reversing a long-term decline in fine-particle pollution.
The plan approved by the South Coast Air Quality Management District's governing board on a 10-1 vote was criticized as weak by community activists and environmental groups. At a public hearing, they urged air quality officials to include stronger pollution controls to ensure the region meets the federal standard for fine particulate matter, or soot, on time. Read more >


2/4/2015
Polluting Diesel Big Rigs, Forced from California, Head for Oregon
By Ken Broder

California truckers are being forced to get rid of older, polluting diesel big rigs that don't meet the state's new emissions standards. That's good news for Californians who value breathable air, and bad news, in the short term, for Oregon and other nearby states.
All of California's pre-2010 trucks—around 350,000, according to The Oregonian—have to leave the state by 2023, but some had to make a January 1 deadline. Although the Oregon Department of Transportation apparently does not have data readily available on ownership changes of polluting big rigs, everyone knows they are already rolling their way. Read more >
2/3/2015
Richard Coyle Takes Helm of California Trucking Association
By Transport Topics

Richard Coyle, president of West Sacramento-based Devine Intermodal, has been appointed president of the California Trucking Association.
Coyle's rotating appointment recently was announced at the association's annual meeting in Monterey, California.
Coyle, a 26-year veteran of the trucking industry with extensive experience in international ocean transport, holds an international relations degree from Stanford University. Read more >
1/30/2015
A Superior Court judge on Thursday ruled that truck drivers in the ports of Los Angeles and Long Beach are employees, not independent contractors, and that seven of them are owed more than $2 million in damages.
The ruling, which comes after two years of legal wrangling and five strikes by drivers and their supporters, is a coup for labor activists and the International Brotherhood of Teamsters, which in recent months has helped bring several labor disputes to court. Read more >
1/28/2015
Running on empty: California looks at hitting motorists with a mileage fee as gas tax revenue falls
By Evan Bleier for MailOnline

Plummeting gas tax revenues have led California to consider imposing a fee on motorists for each mile they drive.The number of electric, hybrid and fuel-efficient vehicles on the state's roadways has increased in recent years, leading motorists to use less and less gas.
The reduction in gas consumption has led to a reduction in gas tax revenues for the state. California collects a 2.25 per cent sales tax on gasoline and a 9.67 per cent tax on diesel. Read more >
1/27/2015
Diesel pollution cut at Port of Oakland
By Mike Hornick

The mean emission rate of black carbon from diesel trucks at the Port of Oakland dropped 76% from 2009 to 2013, a California study finds.The improvements in air quality are linked to a port program to modernize trucks.
In addition, the average emission rate for nitrogen oxides declined 53%. Read more >
1/20/2015
CARB fines four for fuel switch failures
By MarineLog.com

— The California Air Resources Board has fined four shipping companies a combined $146,719 for failing to switch from bunker fuel to cleaner, low-sulfur marine distillate fuel upon entering Regulated California Waters – within 24 nautical miles of the California coast.
Adopted in 2008, the Ocean-Going Vessels Fuel Rule was designed to reduce fine particulate pollution, oxides of nitrogen and sulfur oxide emissions from ocean-going vessels to improve air quality and public health in California. Read more >
1/19/2015
Diesel truck dilemma threatens Sacramento church's food program
By Mike Luery

SACRAMENTO, Calif. (KCRA) —California leads the nation -- and the world -- when it comes to reducing carbon emissions.
And this year, the state is targeting diesel trucks -- specifically older models made before 1996, which have the dirtiest engines and contribute to global warming.
Caught in the crosshairs is a Sacramento food ministry program that is helping to feed people in need. Read more >