10/07/2015
U.S. EPA holds trucking company accountable for failure to
install emissions controls on its California fleet
By Karen Caesar, CARB
SAN FRANCISCO—Today, the U.S. Environmental Protection Agency announced that Estes Express Lines will pay a $100,000 penalty
for violations of the California Truck and Bus Regulation, for failing to install particulate filters on 73 of its heavy-duty
diesel trucks (15% of its California fleet).
In California, mobile sources of diesel emissions, such as trucks and construction equipment, are one of the largest sources of
fine particulates. About 625,000 trucks operating in California are registered outside of the state, many are older models
emitting particulates and nitrogen oxides (NOx). The California truck rules are the first of their kind in the nation and will
prevent an estimated 3,500 deaths in California between 2010 – 2025.
The California Truck and Bus Regulation was adopted into federal Clean Air Act plan requirements in 2012 and apply to
privately-owned diesel trucks and buses. The rule also requires any trucking company to ensure their subcontractors are only
using compliant trucks, and requires companies to upgrade their vehicles to meet specific NOx and PM2.5 performance standards in
California. Heavy-duty diesel trucks in California must meet 2010 engine emissions levels or use diesel particulate filters, which
can reduce the emissions of diesel particulate into the atmosphere by 85% or more.
"Trucks represent one of the largest sources of air pollution in California, and the state has the worst air quality in the
nation," said Jared Blumenfeld, EPA's Regional Administrator for the Pacific Southwest. "EPA's enforcement efforts are aimed at
ensuring all truck fleets operating in California are in compliance with pollution laws."
"ARB's partnership to enforce our clean truck and bus regulation with our partners at EPA is vitally important to us," said ARB
Chair Mary D. Nichols. "It helps bring vehicles that are operating illegally into compliance, and levels the playing field
for those who have already met the requirements."
In addition to the penalty, Estes will spend $290,400 towards projects to educate the out-of-state trucking industry on the
regulation and for replacing old wood burning devices in the San Joaquin Valley. Estes will pay $35,000 to the University of
California Davis Extension to implement a state-approved training program for out-of-state trucking firms on compliance with the
rule. Estes will also pay $255,400 to the San Joaquin Valley Air Pollution Control District's Burn Cleaner Incentive Program that
will be used to replace 80 or more wood-burning devices with cleaner ones.
Estes is a large, private, for-hire trucking firm based in Virginia that owns and operates diesel-fueled vehicles in all 50
states. In February 2015, EPA issued a Notice of Violation to Estes after EPA's investigation found that the company failed to
equip its heavy-duty diesel vehicles with particulate filters and failed to verify compliance with the Truck and Bus Regulation for
its hired motor carriers. Estes now operates only new trucks in California.
Fine particle pollution can be emitted directly or formed secondarily in the atmosphere and can penetrate deep into the
lungs and worsen conditions such as asthma and heart disease. Read more >
10/07/2015
UC Berkeley scientists measure diesel truck emissions in Caldecott Tunnel
By Charles Fisher
A team of campus researchers is measuring the relative levels of diesel truck emissions passing through Berkeley's Caldecott Tunnel in an effort to determine the effectiveness of California's new emissions requirements.
The researchers, a group of scientists from the campus's Lawrence Berkeley National Laboratory, have been using a set of cameras, monitors and a research van to gather data that describe the amounts of relative gases and diesel particulate matter emitted by the large trucks.
"We bring a bunch of air pollution analyzers we have in a research van," said Thomas Kirchstetter, principal investigator for the project, who is also a scientist at the lab and an associate adjunct professor at UC Berkeley. "It's a mobile laboratory." Read more >
10/06/2015
CWI ISL G Near Zero natural gas engine certified to near zero NOx; 90% below current standard
By Green Car Congress
Cummins Westport Inc. (CWI) announced that its new ISL G Near Zero (NZ) natural gas engine is the first mid-range engine in North America to receive emission certifications from both US Environmental Protection Agency (EPA) and Air Resources Board (ARB) in California that meet the 0.02 g/bhp-hr optional Near Zero NOx Emissions standards for medium-duty truck, urban bus, school bus and refuse applications.
Cummins Westport ISL G NZ exhaust emissions will be 90% lower than the current EPA NOx limit of 0.2 g/bhp-hr and also meet the 2017 EPA greenhouse gas emission requirements. CWI natural gas engines have met the 2010 EPA standard for particulate matter (0.01 g/bhp-hr) since 2001.
Performance and efficiency will match the current ISL G, with engine ratings from 250-320 horsepower, and 660-1,000 lb-ft torque available. Base warranty, extended coverage options, maintenance procedures and service intervals are also the same as the current ISL G. The new engine has similar emission control systems (throttle body injection, TWC, EGR, etc.) as the current 0.20 g/bhp-hr NOx ISL G. Read more >
10/01/2015
California supports U.S. EPA action to strengthen national ozone standard
by C.A.R.B.



Just-released ARB strategy to control pollution from cars and trucks puts California on trajectory to meet new standard
SACRAMENTO - The California Air Resources Board supports the U.S. EPA's decision today to strengthen the national ambient air quality standard for ground-level ozone pollution, bringing the national standard more in line with California's 10-year-old standard.

Strengthening the standard provides health, environmental and economic benefits for all of California. Science demonstrates that adverse health impacts continue to occur with the previous 8-hour average ozone standard level of 75 parts per billion. The U.S. EPA has now lowered the level of the standard to 70 ppb, making it more health protective.

"We support using the most up-to-date science and recognize that even as the new ozone standard gets tougher to attain California will continue to make progress by employing cleaner technology and fuels," ARB Chair Mary D. Nichols said. "The new standard will mean a reduction in premature mortality, hospitalizations, emergency room visits for asthma, and lost work and school days. This is especially critical in the South Coast and San Joaquin Valley, where nearly two-thirds of our state's residents live, including large numbers of people who work outside and who have asthma and other chronic heart and lung diseases."

ARB's control programs, together with efforts to reduce air pollution at the local and federal levels, have achieved tremendous success in reducing emissions and providing continued improvement in air quality. The South Coast and San Joaquin Valley are the nation's only two air basins designated 'extreme' nonattainment.

Further reductions are needed to meet the new standard -- and California's air quality and climate goals. With a standard of 70 ppb, several rural counties likely will fall out of attainment, adding to the state's existing 16 ozone nonattainment areas. New nonattainment areas are expected to include Amador, Tehama and Tuolumne counties and the Sutter Buttes area.

One of several goals California must meet are the existing ambient ozone air quality standards in 2023 and 2031, which will require an estimated 80 percent reduction in oxides of nitrogen (NOx) emissions below current emission levels in the South Coast air basin, with substantial reductions needed in the San Joaquin Valley and other nonattainment areas of the state.

New draft strategy released
In a just-released discussion draft of the State's strategy for its cars and trucks to meet federal air quality standards, the ARB outlines a proposed strategy that continues to build on previous efforts to meet critical air quality and climate goals over the next 15 years. Released Wednesday, the strategy provides a comprehensive foundation for the ongoing transformation of the state's vehicle fleet putting California on a path to likely meet the new more health-protective federal ozone standard.

The draft strategy (Discussion Draft Mobile Source Strategy) is designed to provide public health protection for the millions of Californians who still breathe unhealthy air and to help California do its part to slow global warming and reduce its dependence on petroleum. In part, the proposed strategy would:
•    Establish requirements for cleaner technologies;
•    Ensure in-use performance over the lifetime of the vehicle;
•    Increase the penetration of zero-emission technologies for cars, trucks and off-road equipment;
•    Require cleaner-burning renewable fuels;
•    Enhance efficiencies in moving people and freight throughout California; and
•    Transform the state's vehicle fleet using zero- and near-zero-emission technologies in order to help meet California's air quality and climate change goals.

National low-NOx standard urged
Reducing emissions from heavy-duty trucks – significant contributors to emissions that form ozone -- is an important element of the mobile source strategy. ARB, therefore, urges U.S. EPA to adopt tighter national NOx emissions standards for on-road heavy-duty engines (fueled by either diesel or CNG). NOx, a product of incomplete combustion, contributes to the formation of not only ozone but also fine particle pollution (PM2.5), a serious health threat in California.

ARB will develop new heavy-duty diesel engine emissions standards within the next several years, while simultaneously petitioning U.S. EPA to establish a corresponding national standard, in order to maximize emission reductions from all vehicles operating in California, regardless of whether they were purchased in a different state.

Vehicles purchased outside of California account for one-third of the heavy-duty vehicle miles traveled in the state on any given day. For that reason, a lower NOx standard that reduces emissions from all trucks operating in California is critical to meeting future air quality goals and tackling this public health challenge.
 
For more information on the new National Ambient Air Quality Standard for Ozone, an ARB fact sheet is available here.

9/28/2015
Deadly Diesel Emissions Plummeting in California
Irvin Dawid
Amidst the bad publicity coming from Volkswagen's engineered fraud on diesel emissions testing comes good news from California Air Resources Board: The cancer risk from airborne toxins, most of which come from burning diesel fuel, dropped 76 percent.
"An Air Resources Board study, published (Sept. 21) in the prestigious scientific journal Environmental Science & Technology, shows that the cancer risk from exposure to the state's most significant air toxics declined 76 percent over a 23-year period in California, a direct result of regulations targeting unhealthful emissions from these air pollutants," writes Melanie Turner for the ARB. Read more >
9/24/2015
EPA talks Phase II rollout at TMC
Lucas Deal
It's been a little more than three months since the EPA and National Highway Transportation Safety Administration (NHTSA) introduced its joint proposed Phase II GHG and fuel economy regulations.
Since then, the trucking industry has been aggressively hunting for more information about the proposed rule.
On that note, Tuesday was a step forward.
During a technical session Tuesday at the Technology and Maintenance Council (TMC) Fall Meeting in Orlando, EPA Representative Matt Spears spoke in detail on how Phase II was written and how the EPA plans to introduce its new regulations in the industry, beginning in 2018. Read more >
9/23/2015
Orland >> A Glenn County Superior Court judge has given a California trucking and business group another month in its case against the California Air Resources Board and diesel particulate filters.
Judge Peter Twede on Friday gave the Alliance for California Business 30 days to file a brief in regards to an exemption CARB says truckers have in regards to the filter.
A state attorney said Friday in court that truckers can file for an exemption if they believe the diesel particulate filter required by the state on older vehicles would cause unsafe conditions in their truck.
While the state attorney said the exemption is well known, alliance attorney Therese Cannata said the alliance has never heard of this exemption. Read more >
9/22/2015
Study links California regulations, dramatic declines in cancer risk from exposure to air toxics
By California Air Resources Board
SACRAMENTO - An Air Resources Board study, published today in the prestigious scientific journal "Environmental Science & Technology," shows that the cancer risk from exposure to the state's most significant air toxics declined 76 percent over a 23-year period in California, a direct result of regulations targeting unhealthful emissions from these air pollutants.
The study quantifies emission trends for the period from 1990 through 2012 for seven toxic air contaminants (TACs) that are responsible for most of the known cancer risk associated with airborne exposure in California.
"These impressive reductions in California's most hazardous toxic contaminants in our air took place against a backdrop of more than two decades of steady growth in California, with a growing population, and increasing numbers of cars and trucks that used ever larger quantities of gas and diesel," Air Resources Board Chair Mary D. Nichols said. "There is no way these improvements in public health would have occurred without a strong, well designed program to reduce public exposure to toxic air pollution." Read more >
9/17/2015
A legal action seeking to halt California's enforcement of its diesel particulate filter regulation could come to a head as soon as Friday, Sept. 18.
Glenn County, Calif., Superior Court Judge Peter Twede is scheduled to hear a motion by the California Air Resources Board to dismiss a legal action brought by a trucking industry veteran and his organization.
The hearing will begin at 1 p.m., and will likely include an audience of interested truckers.
Plaintiffs in the case, the Alliance for California Business, believe DPFs have been the cause of 31 fires or more in the last 18 months, including several in CARB's drought-worn home state.
The organization is seeking an injunction against the Truck and Bus Rule to prevent its enforcement by CARB. The lawsuit questions the safety of technology used to meet California's Truck and Bus Rule – a multibillion-dollar rule that has banned trucks with pre-2007 model year engines and required DPFs on virtually all trucks hauling freight in the Golden State. Read more >
9/16/2015
There's a Simpler Way to Fight Climate Change, California
By Editorial Board
Say this for California's landmark bill to reduce carbon emissions: It doesn't lack for ambition. At the same time, it shows the pitfalls of relying too much on regulators instead of the market.
The original bill would have set in law three extraordinary targets for 2030: Get half the state's power from renewable sources, double the savings from energy efficiency in California buildings, and cut the amount of gasoline used by half. The state's goal is to reduce emissions by 80 percent by 2050, compared with 1990 levels.
The oil industry lobbied furiously against the mandate to cut fuel use, arguing that it would force the board to ration gasoline or even ban certain types of cars. That argument proved successful: Governor Jerry Brown and Democrats in the state senate said last week they would leave the requirement for cutting gas consumption out of the bill. Read more >
8/24/2015
Port of Oakland Opening Gates on Saturday to Reduce Truck Congestion
By: Trucking News Staff
The four international marine container terminals at the Port of Oakland are developing a program to operate terminal gates on Saturdays to reduce weekday congestion at the port. The new program, called OakPass, is expected to begin in the fourth quarter of this year, pending review by the Federal Maritime Commission (FMC) and other conditions.
The terminals have submitted a filing to the FMC describing the proposed program. The terminals are currently working to ensure that an adequate supply of labor will be available to operate the new gates. OAKMTOA has established OakPass LLC, a not-for-profit company, to manage the Saturday gate program.
"The Port of Oakland and the four international container terminals agree on the need for additional capacity to reduce congestion and accommodate future volume growth," said John Cushing, president of OakPass. "After spending well over a year evaluating options including night gates, we determined that adding a Saturday gate is the most practical and cost-effective method to increase capacity in a way that meshes with availability of truck drivers and longshore workers and serves the entire supply chain."
To help pay for the cost of the new gates, the terminals will begin collecting an Extended Gate Fee (EGF) of $17 per 20-foot equivalent unit (TEU), or $34 on a typical 40-foot container. The EGF will be assessed on loaded import and export containers entering or exiting the terminals between 7 a.m. and 6 p.m., Monday through Friday. Read more >
8/20/2015
LOS ANGELES, California, August 19, 2015 (ENS) – High performance renewable diesel fuel was introduced to Southern California drivers this week by Propel Fuels, based in Sacramento.
Called Diesel HPR (High Performance Renewable), the fuel is a low-carbon, renewable fuel that meets petroleum diesel specifications and can be used in any diesel engine.
Refined from recycled fats and oils, Diesel HPR does not contain biodiesel or petroleum diesel. It is diesel refined from renewable biomass through Neste's advanced hydrotreating technology called NEXBTL.
Neste, based in Espoo, Finland, is the leading producer of renewable diesel in the world, with an annual production volume of more than two million tons. The company is the world's largest producer of renewable fuels from waste and residues. Read more >
8/19/2015
OEMs, Cummins disagree on separate GHG engine standard
By Kevin Jones
LONG BEACH, CA. The second public hearing on proposed truck fuel efficiency and greenhouse gas emissions standards shaped up much like the first: Trucking industry representatives expressed qualified support for the stringency goals and implementation schedule outlined by the Environmental Protection Agency (EPA), while air quality regulators and environmental groups called for tougher restrictions and a tighter timeline. And within trucking there is a divide over exactly how the engine and complete vehicle should be measured.
The big four North American heavy-duty truck manufacturers (Daimler Trucks North America, Navistar, Paccar and Volvo Trucks North America) spoke with one voice Tuesday, as Dan Kieffer, director of emissions compliance for Paccar, delivered a statement on behalf of all.
Calling the Phase II rule "historic in its scope and complexity," Kieffer noted "a long list of technical and protocol issues" the truck makers will work closely with EPA and the National Highway Transportation Safety Administration (NHTSA) to resolve. Read more >
8/19/2015
Environmentalists, industry debate proposed new federal clean-truck rules
By Sandy Mazza, Daily Breeze
Environmentalists and trucking industry representatives clashed Tuesday at an all-day hearing in Long Beach on the federal government's next regulatory phase of diesel truck emissions, which experts say account for 20 percent of greenhouse gases.
With government regulators listening intently, California officials called the emission reduction targets for medium and heavy-duty trucks too lenient, while industry leaders complained they are too restrictive and poorly thought out.
Their arguments were delivered in back-to-back public hearings on the 629-page proposed law drafted by the U.S. Environmental Protection Agency and Department of Transportation. The rule, in short, is considered "phase two" of the environmental initiative launched in 2010 by President Barack Obama.
Rep. Grace Napolitano, whose district includes much of the San Gabriel Valley, spoke in favor of stricter rules that would lead to a 40 percent reduction of 2010-level vehicle emissions by 2025.

8/18/2015
Trucking toward cleaner air: Guest commentary
By Michael Brune
When my parents were kids, our cars didn't require seatbelts. They remember sitting in the backseat catching air as the car rolled over speed bumps and potholes. But because of American innovation and the desire to keep our families safe, the car I drive my kids around in has airbags on all sides, and endless safety features. And our next car will probably be able to drive itself.
Along with technology that keeps our families safe, our cars are more fuel-efficient than ever before, which means they are safer for our environment. And thanks to more hybrids and electric vehicles on the road and fuel efficiency standards, our passenger cars go further on a gallon of gas than we could even imagine when I was a kid. Or not use any gas at all.
But the heavy-duty trucks driving alongside us haven't kept pace — in fact, oil use from freight trucks is growing rapidly. While heavy-duty trucks account for only 7 percent of the vehicles on the road, they guzzle a quarter of all fuel. And our tractor trailers are stuck in the 1970s, still averaging roughly 6 miles per gallon. Read more >
8/14/2015
California Aims to Regulate Sustainability Into Freight System
by David Cullen
When it comes to rolling out regulations, California leads the nation. Rules written by the Golden State, due to its immense population and gargantuan economic might, tend to be adopted sooner or later by other states and to influence federal rulemaking. This is especially so when it comes to rules aimed at environmental protection and sustainability.
That's why trucking stakeholders across the country will be keenly watching developments in California that will determine the potentially sweeping impact of a recent proclamation by Gov. Edmund G. ("Jerry") Brown, Jr.
Brown's Executive Order B-32-15 directs state agencies to craft an "integrated action plan" by next July that would set "clear targets to improve freight efficiency, transition to zero-emission technologies [for cars and trucks] and increase competitiveness of California's freight system." Read more >
8/12/2015
Wind is blowing China's air pollution 'straight across' to the US West Coast
By Barbara Tasch
A new study links the increase in ozone precursor emissions in Asia to increased levels of ozone over the US's West Coast.
In the study, published Monday, a team of six researchers from US and Dutch universities found that ozone concentrations over China increased by about 7% between 2005 and 2010 and that ozone traveling in the air from China has reached the western part of the US, challenging the reduction of ozone levels there.
China's meandering pollution likely offset the 2005-10 reduction in ozone that had been expected following US policies aimed at reducing emissions, by roughly 43%, the researchers found.
Over that period, the US government put in place emission-reducing measures and curbed the production of ozone-forming nitrogen oxides by 20% on the West Coast, according to Wageningen University. Yet that did not improve the quality of the air especially in terms of ozone reduction.
And the increased air pollution in Asia might be at least partly to blame.
Lead researcher Willem Verstraeten of Wageningen University in the Netherlands said in statement that the "dominant westerly winds blew this air pollution straight across to the United States."
He added: "As a manner of speaking, China is exporting its air pollution to the West Coast of America." Read more >
8/11/2015
Aside from smartphones, toys and computers, China exports a different kind of product into the western United States — air pollution.
A study released Monday by the Jet Propulsion Laboratory and NASA found that smog-forming chemicals making their way across the Pacific Ocean from China are undermining the progress California has made in reducing ozone, the most caustic component in L.A. smog.
From 2005 through 2010, western states have cut ozone-forming air pollutants by 21 percent, but the NASA/JPL study found no drop at all when measuring smog-forming gases in the midtroposphere, located 10,000 to 30,000 feet above ground level.
Just under half of what should have been a 2 percent drop was offset by China's contribution, stemming from a 21 percent rise in ozone-forming pollutants emitted by car tailpipes and coal plants from a robust Chinese economy during the six years studied. Slightly more than half was due to natural causes — stratospheric ozone descending through the sky as a result of cyclical atmospheric winds helped by an El Niño in 2009-2010, the scientists concluded. Read more >
8/10/2015
Customer acceptance of upcoming emissions standards at the forefront of Phase II public hearing
By Lucas Deal
As environmentalists and manufacturers shared their thoughts on realistic fuel consumption reduction goals for medium- and heavy-duty engines for next decade, it was ATD Chairman Eric Jorgensen who offered the most likely obstacle to the success of the EPA and NHTSA's new proposed Phase II regulations during an open public hearing on the regulations Thursday in Chicago.
Speaking on behalf of more than 1,800 truck dealers and as president of JX Enterprises, Jorgensen says the environmental benefits of Phase II won't be determined by complexity or detail of the ruling—it will be how much it costs to implement it in new trucks.
The desire to reduce fuel consumption and emissions is shared by environmental groups and the trucking industry alike, Jorgensen says, but if Phase II attempts to reduce emissions too drastically it could become cost prohibitive to the end users who will ultimately bear the financial burden of the new technology.
"We need to find the sweet spot," Jorgensen says. "[Phase II] only works if the trucks are in use," purchased by end users at reasonable prices, he said. Read more >
8/06/2015
OOIDA says that even though EPA has extended the comment period for its proposed Phase 2 greenhouse gas emissions and fuel economy standards for trucks through Sept. 17, the time is still short for truckers and truck owners to adequately process and comment on provisions that will affect their bottom lines for the next 12 years and beyond. OOIDA aired some preliminary concerns in a letter to EPA and National Highway Traffic Safety Administration officials on Wednesday, July 29.
OOIDA leadership acknowledges that a short extension for public comments granted by the Environmental Protection Agency will last 30 days beyond the second of two scheduled public hearings in regards to the agency's proposed Phase 2 standards for greenhouse gas emissions and fuel economy for heavy-duty trucks. However, the Association is concerned that the time frame for comments on a proposal that stands to add $10,000 to $13,000 to the price of new trucks by 2027 requires proper analysis and vetting by the stakeholders the proposal stands to affect.
"This is an extremely complex proposal, and a longer comment period ensures that OOIDA and other stakeholders, as well as our membership of small-business owners and professional truck drivers, have ample opportunity to review the proposal and comment," OOIDA leadership stated in the letter, signed by Association Executive Vice President Todd Spencer.
"While extending the comment period 30 days beyond the last planned public meeting is a laudable decision, it does not adequately provide for sufficient time." Read more >
8/03/2015
This year, the freight movement sector will be facing the development of new emissions rules affecting trucking, warehousing and distribution centers in California. Through legislative approaches, executive orders and other regulatory measures currently in development, a slew of new compliance concerns are just around the corner. Since the early years of the 21st century, California has greatly reduced community health risks from freight emissions. As a result, the trucking industry — three-fourths of which is made up of small family-owned businesses — has cut particulate matter emissions by 99% by investing more than $7 billion in clean truck technologies. This number alone is equivalent to taking 1.4 million cars off the road. However, on July 17, California Gov. Jerry Brown issued a proclamation calling for a new wave of regulations on the freight movement industry, which accounts for one-third of the state's economy and jobs. Read more >
7/31/2015
A coalition of businesses and truck owners who are suing the California Air Resources Board believe a recent rash of roadside fires is part of a larger trend – diesel particulate filters failing the very environment they were designed to protect.
The Alliance for California Business believes DPFs have started as many as 31 fires in the last 18 months, including several in CARB's drought worn home state.
Bud Caldwell, the organization's president and owner of 11 trucks, says multiple fires in recent weeks appear to be the result of fires that started below the truck's engine compartment.
"But nobody investigates fires unless there is a death," Caldwell told Land Line.
Caldwell pointed to multiple fires along California highways during the last year, including four separate fires believed to be set by a single truck on July 6 and fire from one truck spreading to two others at a Natomas, Calif., truck stop last November. Read more >
7/21/2015
Navistar Inc. fined $250,000 for violating state air emissions regulations
By C.A.R.B.
SACRAMENTO - Navistar Inc. paid $250,000 in penalties to the Air Resources Board for failing to follow proper testing procedures for one of its diesel exhaust filters, as required by state law.
"Companies that are in the business of providing pollution control technology for vehicles must make sure that their products actually do what they say they will do," said ARB's new Enforcement Chief, Todd Sax. "Navistar sold diesel particulate filters in California without proper testing at specified intervals, in violation of our air quality laws. To their credit, once they were notified of these infractions, they took prompt action and cooperated fully with ARB."
The state's Verification Procedure requires compliance testing for each category of diesel particulate filters after a certain number of units are sold or leased in the California market. Results of these tests must be submitted to ARB's Executive Officer after each phase of testing in the form of a compliance report.
Navistar. failed to follow the in-use compliance requirements of the Verification Procedure for the DPX™ Catalyzed Soot Filter System. The company had sold more than 200 in California, with many installed on school buses in the San Diego County region, which should have triggered the required testing.
Illinois-based Navistar has agreed to follow all required procedures and paid $187,500 to the Air Pollution Control Fund to support air quality research, and $62,500 to the San Joaquin Valley Air Pollution Control District to clean up school bus fleets throughout the state.
Diesel exhaust contains a variety of harmful gases and more than 40 other known cancer-causing compounds. In 1998, California identified diesel particulate matter as a toxic air contaminant based on its potential to cause cancer, premature death and other health problems. Read more >


7/21/2015
EPA Sues Navistar, Says Some 2010 Engines Were Illegal
By Tom Berg
Navistar Inc.'s 2009-2010 "transition" strategy for exhaust-emissions compliance has led to a lawsuit filed on Wednesday by the U.S. Environmental Protection Agency.
EPA claims 7,750 Navistar diesels sold in International trucks during 2010 were not true 2009 models, and without formal exemptions, they were illegal.
The suit is the latest development resulting from the company's tried but failed strategy to use a less costly method to meet emissions limits. It was temporarily helped by EPA in an emergency ruling that allowed continued production of the engines while Navistar continued to work on its technology. That ruling was challenged by competitors and thrown out by a federal judge. Read more >
7/16/2015
How to Get Started as an Owner Operator in the Trucking Industry
Written by SayCampusLife Admin
Being a truck driver offers plenty of benefits, including job security and competitive wages. But you can really boost your earning power by taking things to the next level by becoming an owner operator.
Develop a business plan. You'll essentially be in business for yourself, so you'll have to come up with a business plan pertinent to your niche, and determine your estimated cash flow, expenses, start-up costs, and so forth. Make sure this plan is thorough, as you'll have to refer to it when you apply for financing to get your business up and running.
Identify the employment potential for owner operators in your area. Get in touch with the local industry and large firms that use owner operators. Search our website for employment opportunities with either a price or a bidding range offered. Make sure you can easily get a gig before you invest in your truck.
Buy the right truck you can afford. Identify the niche you'll be in, and shop around for the appropriate truck. Scope out a number of dealers and financing options, and understand the type of maintenance that will be needed.
Buy insurance that will cover your vehicle. There is significant liability in the trucking industry, so you'll have to make sure that the insurance policy you purchase will adequately cover your vehicle. The prices will range quite a bit, so make sure to take your time in the shopping process.
Hire an accountant to take care of the books. You'll be spending all your time working, so leave it to the professionals to take care of all your tax forms and invoices for you. Your accountant will also be able to help you track your expenses, which is important to keep your budget intact.
Learn to do basic maintenance on your truck. You can save yourself a lot of money performing basic maintenance like changing tires rather than always relying on a mechanic. Read more >
7/16/2015
Judge dismisses most of OOIDA lawsuit against CARB, transfers owner-op's claim
By James Jaillet
The federal judge overseeing the Owner-Operator Independent Drivers Association's lawsuit challenging California emissions standards has again dismissed most of the owner-driver advocacy group's litigation.
U.S. District Judge Morrison England issued the ruling last week. He also transferred the remaining elements of the case to a larger federal appellate court.
OOIDA's 2013 lawsuit against the California Air Resources Board and some of its members, challenging the Constitutionality of the state's tough emissions regulations, was dismissed in full in November of last year. But a citation issued to one of the owner-operator plaintiffs in the case allowed OOIDA to revive it and bring its claims back to court. Read more >
7/15/2015
Federal regulators on July 13 formally published their proposal in the Federal Register that would tighten greenhouse-gas emissions for trucks, improve their fuel economy and regulate trailer efficiency for the first time. Details of the Phase 2 joint proposed rule were first announced June 19 by the U.S. Environmental Protection Agency and National Highway Traffic Safety Administration. The proposal would phase in more stringent standards for heavy- and medium-duty trucks from 2021 through 2027. The more than 1,000-page main proposal includes separate standards for engines and vehicles. Read more >
7/10/2015
This 100 Percent Electric Eighteen-Wheeler Just Hit The Road In Germany
by Ari Phillips
On Tuesday, an all-electric tractor-trailer hit the road in Munich, Germany — the first time such a large electric vehicle made by a European manufacturer has gone into regular service in Europe, according to BMW, the company behind the project.
The 40-ton truck has a range of about 62 miles per charge, which takes three or four hours. Its first deployment will entail transporting vehicle components — such as shock absorbers, springs and steering systems — over stretches of less than two miles across Munich seven times a day.
Developed by BMW Group and the SCHERM group, a German automotive service provider, the big rig is a model from the Dutch manufacturer Terberg. According to the companies, the truck is "CO2-free, quiet and generates almost no fine particle pollution." They also state that compared to a standard diesel engine truck, the electric truck will save 11.8 tons of carbon dioxide per year — the equivalent of the emissions produced by driving one of BMW's more efficient cars, which gets an average of 60 miles per gallon, around the world almost three times. Read more >
7/10/2015
California Coalition to Promote Benefits of Natural Gas Trucks
by NGT News
Southern California Gas Co. (SoCalGas) says it is teaming up with the California Trucking Association (CTA) to help expand awareness of the economic and environmental benefits of natural gas as a transportation fuel for heavy-duty trucking and goods movement.
"SoCalGas is pleased to join with the California Trucking Association to help its members learn more about the many ways natural gas fueling and clean natural gas engine technologies can help them save money, clean up our air and mitigate the environmental impact of goods movement," states Rodger Schwecke, vice president of customer solutions for SoCalGas. Read more >
7/8/2015
Bosch: Emissions – How diesel affects air quality
By Automotive World
Bosch explains why diesel is crucial to achieving CO2 targets, how to reduce nitrogen oxide emissions, and what impact smokers and tires have on emissions of particulate matter
Paris, London, Stuttgart – air quality is at the focus of debate all over Europe – a debate that often centers on diesel engines.
Air quality is at the focus of debate all over Europe – a debate that often centers on diesel engines. "In Bosch's view, it's important to base the air quality debate on facts," says Dr. Rolf Bulander, chairman of the Mobility Solutions business sector. Read more >
7/8/2015
Trucking Industry Faces Stricter Fuel Efficiency Standards
By Lauren Gardner
Medium- and heavy-duty fleet trucks would have to meet stricter fuel efficiency standards under a proposal by federal environmental and highway regulators, part of the Obama administration's effort to reduce climate-warming pollution across the economy.
The standards proposed on June 19 would cut greenhouse gas emissions by about 1 billion metric tons over the life of the nation's fleet, agencies said.
That's roughly equivalent to the pollution linked to electricity use by all U.S. households for one year. The standards — covering tractor trailers and the largest vans and pickup trucks — would begin in the 2021 model year and be applied through model year 2027.
For trailers, the standards would take effect in the 2018 model year.
The transportation sector is the second-largest contributor to the U.S. carbon footprint, after the utility industry, according to the EPA. Medium- and heavy-duty trucks emit about 20 percent of the sector's carbon pollution while accounting for just 5 percent of the vehicles on the road. Read more >
7/6/2015
Moreno Valley warehouse project raising concerns over air quality
By Jim Steinberg, The Sun
MORENO VALLEY >> A master planned warehouse development that would fill nearly 700 football fields has raised concerns among state and regional air quality regulators, the Riverside County Transportation Commission and the American Lung Association.
The proposed World Logistics Center — with its 40.6 million square feet of warehouses and 14,000 daily truck visits — is planned for construction east of Moreno Valley and south of the 60 Freeway. Construction of the $3 billion project is expected to take 15 years.
"This project is so large that it will have consequences for the region," said Ronald Loveridge, who is director of the UC Riverside Center for Sustainable Suburban Development and former longtime mayor of Riverside.
The project is coming up for approval at a time real estate professionals say the combined San Bernardino and Riverside county area is experiencing its third and largest warehouse building boom. Read more >
7/2/2015
Trucking Companies Try New Approach at Congested California Ports
By Erica E. Phillips
LOS ANGELES—A handful of companies are betting the days of truck drivers owning their own vehicles is coming to an end.
Operating primarily in Southern California, the firms are buying trucks and employing drivers full time to haul goods the short distance between ports and nearby rail yards and warehouses, a key link in the national supply chain known as drayage trucking.
The new outfits include a startup backed by private equity firm Saybrook Capital LLC and others that converted from independent contractor models, where drivers own or lease their own trucks. While all-employee drayage companies account for less than 5% of the more than 10,000 drivers at Southern California ports, that's double their share a year ago, according to the International Brotherhood of Teamsters, which is working to organize the employee drivers. Read more >
7/1/2015
Study: Fireworks cause a toxic brew of unhealthy air
by Shannon Rae Green
The thousands of Fourth of July fireworks celebrations across the nation bring a toxic brew of air pollution to our atmosphere, according to a recent study from federal scientists.
The exploding fireworks unleash tiny particles — about 1/30th the diameter of a typical human hair — that can affect health because they travel deep into a person's respiratory tract, entering the lungs.
The tiny particles are known as "particulate matter" and include dust, dirt, soot, smoke and liquid droplets and are measured in micrometers, according to the Environmental Protection Agency. A micrometer is one-millionth of a meter. Read more >
6/29/2015
Trucking Speeds Ahead as Fastest-Growing Small Business Industry
by Benjamin Pimentel
Those big rigs you see rumbling down the freeway are a sign of good times.
Trucking is now the fastest-growing small-business industry in the U.S., thanks to a robust economy and expanded options for small-business loans and financing.
Two kinds of small businesses in trucking posted the biggest jumps in revenue in the 12-month period ending May 31, according to a report released this month by Sageworks, a financial analysis software company.
General freight trucking, which covers small businesses that transport a wide range of merchandise, was at No. 1, recording a nearly 25% uptick in sales, the report said. Read more >
6/26/2015
Diesel burning trucks idling for long periods is a problem in the City of Commerce. On Tuesday, city officials, residents and local environmental groups unveiled the city's latest effort to try to curtail the practice: 20 new "No Idling" signs to be installed in areas where truck drivers tend to stop off for a while but keep their engines running.
The new signs were created in partnership with East Yard Communities for Environmental Justice, the Department of Toxic Substances Control (DTSC) and the California Environmental Protection Agency, (CalEPA) and are meet new new regulations set by the California Air Resources Board (CARB) regarding the idling of commercial vehicles.
The new regulations require "No Idling" signs to be placed at locations where significant numbers of idling trucks have been found. Read more >
6/22/2015
EPA, DOT release proposal for next phase of emissions, fuel economy standards, set to take effect 2018
By Matt Cole
The EPA and DOT announced Friday their plans for Phase 2 of the Greenhouse Gas Emissions Standards and Fuel Efficiency Standards for Medium- and Heavy-Duty Engines and Vehicles.
Phase 2 of the program would "significantly reduce carbon emissions and improve fuel efficiency of heavy-duty vehicles, helping to address the challenges of global climate change and energy security," according to the EPA.
The proposed standards will begin in model year 2018 for trailers and 2021 for tractors and culminate in vehicle-wide — engine, truck and trailer — standards for model year 2027 vehicles.
The EPA said the proposed plan will cut GHG emission by approximately 1 billion metric tons and conserve about 1.8 billion barrels of oil over the lifetime of the vehicles sold during the program. Read more >
6/22/2015
America's Trucking Industry May Become a Bit Less Dirty
By VICE News
The US government proposed on Friday new rules to limit emissions from big, heavy-duty trucks and long-haul tractor trailers — a move that underscored the Obama administration's commitment towards fighting climate change.
The new emission standards would apply to a wide range of vehicles, from the largest pickup trucks and vans to semi-trucks, as well as trailers, and would reduce greenhouse gas emissions by about 1 billion metric tons and conserve about 1.8 billion barrels of oil over the lifetime of the vehicles sold, according to the joint guidelines from the US Environmental Protection Agency (EPA) and the Department of Transportation's National Highway Traffic Safety Administration (NHTSA).
The proposed rules hold the potential to significantly cut US emissions: The transportation sector is the second largest contributor, accounting for about 27 percent of the nation's carbon pollution. Yet, the trucking industry is weary of the costs of implementing the proposed rules, which the public has 30 days in which to submit comments, but it also sees potential savings in improved fuel efficiency. Read more >
6/22/2015
WASHINGTON — The Obama administration on Friday introduced a major climate change regulation intended to reduce planet-warming carbon pollution from heavy-duty trucks.
The rule, issued by the Environmental Protection Agency and the Transportation Department, is the latest in a march of pollution constraints that President Obama has put forth on different sectors of the economy as he seeks to make tackling climate change a cornerstone of his legacy.
The proposed rule is meant to increase the fuel efficiency of the vast rigs that haul goods as varied as steel, timber and oil, as well as packages from Amazon.com. The regulations will also set emissions targets for other types of trucks larger than light-duty pickups, like delivery vehicles, dump trucks and buses. Read more >
6/17/2015
Pope's climate change encyclical could sway U.S. opinion: scientists
By Mary Wisniewski
Some U.S. scientists are expressing hope that Pope Francis' encyclical on global warming embracing the view that it is mostly caused by human activities will change public opinion in the United States, where the issue is highly politicized.
Texas Tech University climate scientist Katharine Hayhoe said the pope's document is important because more facts alone will not convince climate change skeptics.
"We have to connect these issues with our values," said Hayhoe, who described herself as an evangelical Christian.
Some U.S. scientists are expressing hope that Pope Francis' encyclical on global warming embracing the view that it is mostly caused by human activities will change public opinion in the United States, where the issue is highly politicized.
Texas Tech University climate scientist Katharine Hayhoe said the pope's document is important because more facts alone will not convince climate change skeptics.
"We have to connect these issues with our values," said Hayhoe, who described herself as an evangelical Christian. Read more >
6/15/2015
Study finds truck fleet clean-up dramatically decreases engine emissions near Port of Oakland
BY Karen Caesar
Black carbon and oxides of nitrogen down 76 percent and 53 percent, respectively, in four years

SACRAMENTO - A study funded by the California Air Resources Board demonstrates that mandatory upgrades to diesel truck fleets serving the Port of Oakland are responsible for significant reductions in two major air pollutants.
According to research conducted by Berkeley scientist Robert Harley and based on data collected from thousands of trucks near the Port of Oakland, emissions of black carbon, a key component of diesel particulate matter and a pollutant linked to global warming, was slashed 76 percent from 2009 to 2013. Emissions of oxides of nitrogen, which leads to smog, declined 53 percent. Also during this period, the median age of truck engines declined from 11 to six years, and the percentage of trucks equipped with diesel particulate filters increased from 2 percent to 99 percent.
Dr. Harley will elaborate on these results during an ARB-hosted research seminar and webcast open to the public at 1:30 pm (PDT) on Thursday, June 18. More information can be found here at this link http://www.arb.ca.gov/research/seminars/harley4/harley4.htm

The webinar will be archived on ARB's website.
The study findings are considered dramatic because they occurred over a relatively short time. Comparable emissions reductions could normally take up to a decade through gradual replacement of old trucks or natural fleet turnover.
In this case, the improvements are attributed to the ARB's Drayage Truck Regulation and to the Comprehensive Truck Management Program at the Port of Oakland, which require vehicle owners serving the port to clean up their trucks by either replacing them with newer models or installing diesel particulate
filters.
Diesel trucks are one of California's biggest sources of air pollution. Because they are so durable, they can operate for decades and emit significant amounts of diesel pollution unless they are retrofit with filters or replaced.
Adopted in 2007, the ARB's Drayage Truck Regulation requires all trucks serving major California ports and intermodal rail yards to be registered and upgraded according to a staggered implementation schedule. By Jan. 1, 2023, all class 7 and 8 diesel-fueled drayage trucks must have 2010 or newer engines.
Currently, pre-2007 model year (MY) trucks cannot serve the ports. All 2007-2009 MY trucks are compliant through 2022.
Diesel exhaust contains a variety of harmful gases and more than 40 other known cancer-causing compounds. In 1998, California identified diesel particulate matter as a toxic air contaminant based on its potential to cause cancer, premature death and other health problems.

6/12/2015
EPA to propose stricter Phase 2 GHG Standards for new HD engines
There seems to be little respite for the heavy duty trucking industry when it comes to emissions reductions in this day and age. While California toys with the idea of a zero-emission, all-electric fleet, the Feds have again thrown down the gauntlet in their efforts to squeeze additional Greenhouse Gas (GHG) reductions from the heavy duty trucking fleet via "Phase 2" new engine standards to take effect in 2027.
While some regulators and politicians have described the industry as a "necessary evil", industry members themselves are passionate defenders of their work, pointing to the fact the vast majority of Americans would be "naked and starving" if the trucking industry stopped moving.
Of course, no one in the industry wants to stop moving and they especially don't want their customers naked or starving. That brings us to a crossroads; the economy needs the industry to help maintain and grow economic activity and the industry needs a strong economy to maintain and grow the industry, it is a symbiotic relationship. As goes trucking, so goes the economy. The industry is the proverbial canary in the coal mine when it comes to the economic health of the country. Read more >
6/8/2015
Don't give CARB more power to punish drivers
BY PATRICIA C. BATES
At the same time that Californians want clean energy, they want it to be affordable and reliable. Wind does not always blow, the sun does not always shine, and these sources are more expensive than traditional ones.
The unanswered question of affordability is a major flaw in Senate Bill 350, which is part of a broader legislative package that attempts to address climate change. The Senate recently approved SB350 without bipartisan support; it's now before the Assembly. Read more >
6/8/2015
New U.S. truck emissions rules could touch off industry struggle
By Nick Carey
CHICAGO (Reuters) - U.S. environmental regulators are expected within days to propose rules to make trucks more fuel efficient, and trucking industry executives and lobbyists familiar with the process said the rules will probably call for boosting fuel efficiency by 2027 nearly 40 percent from 2010 levels.
Truckers say the industry is willing to accept tighter federal standards, since motor fuel accounts for about a third of its costs. Truckers also want consistent standards throughout the country instead of a separate state rule in California.
But various segments of the trucking industry disagree about how federal rules should be structured and implemented. So the Environmental Protection Agency proposal for heavy trucks could prompt an intramural struggle to influence the final regulations. Read more >
6/8/2015
Air quality rules tightened after cancer risk found to be 3 times higher
By Tony Barboza
Dozens of Southern California facilities, including oil refineries, aerospace plants and metal factories, will face new requirements to reduce toxic emissions or notify their neighbors of the health risks from their operations under rules approved Friday by air quality officials.
The move by the South Coast Air Quality Management District governing board follows new guidelines from state environmental officials that estimate the cancer risk from toxic air contaminants is nearly three times what experts previously thought. Read more >
6/4/2015
For truck drivers at the ports of Los Angeles and Long Beach, it's a waiting game
by Brian Watt
More than 40 percent of U.S. imports flow through the ports of Los Angeles and Long Beach. An army of 14,000 short-haul truck drivers are tasked with hauling that cargo from the port complex to warehouses and rail yards around Southern Calfornia. But some of those truckers say, despite their critical role at the ports, they are among the lowest paid workers there, due to ridiculously long wait times.
There are an estimated 14,000 truck drivers operating in the port complex. They collectively move, on average, 11,000 cargo-filled containers each day, according to numbers from the Ports of Los Angeles and Long Beach. Their ability to make a good living depends on how they are classified - and there are haves, and have-nots. Read more >
6/2/2015
Big Trucks Emit Huge Amounts Of Carbon Every Year. The EPA Is About To Do Something About It.
by Katie Valentine
The Environmental Protection Agency is expected to propose new standards for heavy-duty trucks this week, regulations aimed at reducing carbon emissions from tractor trailers and other big trucks.
It's not yet known exactly what cuts the proposed regulations will call for, but according to the New York Times, the rule will likely require heavy trucks — like tractor trailers, buses, and garbage trucks — to increase their fuel economy by up to 40 percent compared to 2010 levels by 2027. Right now, the Times reports, a tractor trailer averages just five to six miles per gallon of diesel fuel. This rule could raise that to as much as nine mpg. Read more >


Read more >
5/29/2015
Peterbilt Concerned About Federal GHG Requirements
By Jonathan S. Reiskin
DENTON, Texas — Peterbilt Motors Co. is eager to see how the upcoming second phase of federal greenhouse-gas regulation will tell truck makers how to score the carbon dioxide emissions from their vehicles.
Since January 2014, manufacturers have had to file reports on emissions by truck model, which collectively must fit under an aggregate limit. The proposed new rule, expected sometime in June, will probably make the task more difficult, said Peterbilt Marketing Director Todd Acker.
"There will probably be a lot more inputs on what is scored. We need to know what data to collect," Acker said here May 28 at the company's Technology Showcase event for reporters and editors. Read more >
5/28/2015
Truck Platooning Report Shows Fuel Economy Gains
By TruckingInfo.com
A report on the first phase of research into the possible benefits of truck platooning technologies showed that all trucks in a platoon gained fuel efficiencies, with the lead truck gaining as much as a 5 percent improvement while the trailing truck got up to 10 percent improvement.
The study, which was conducted by Auburn University's GPS and Vehicle Dynamics Laboratory, along with partners Peloton Technologies, Peterbilt Motors, Meritor-Wabco and the American Transportation Research Institute.
As part of the Federal Highway Administration's advanced research project on heavy truck cooperative cruise control, the first phase of the study looked at the commercial feasibility of driver assistive truck platooning, or DATP. Read more >
5/26/2015
Truckers' secret to fuel efficiency: take it easy
By Nick Carey
EAST DUBUQUE, Illinois (Reuters) - Mario Enriquez says there's no real trick to getting great fuel mileage in a big truck.
"Just take it easy," says the 61-year-old native of El Paso, who's driven an 18-wheeler for 11 years. "I don't gun the engine, I just gradually give it the gas."
Enriquez averaged 9.74 miles per gallon from February to April in an International ProStar made by Navistar International Corp. For that, his employer, Mesilla Valley Transportation (MVT), awarded him a Nissan Versa compact car. Enriquez wasn't even the best of the company's drivers in the latest quarter, but no driver is allowed to win more than once and all those ahead of him were previous winners.
The mileage performance Enriquez and truckers like him can achieve with current trucks is significant because it could influence how far the U.S. government pushes heavy truck makers to boost the average fuel economy of future Class 8 trucks – the over-the-road haulers like the ones MVT operates.
Environmentalists want the Environmental Protection Agency to set a standard of 10 miles per gallon, up about 40 percent from current levels, as part of a broader effort to curb U.S. greenhouse gas emissions. Some truck manufacturers say that could be too aggressive.
But owners of truck fleets such as MVT are running ahead of regulators and manufacturers, taking advantage of new technology and new ways of motivating drivers to cut fuel consumption. Their primary goal is cutting fuel bills, one of a trucking company's biggest costs. In the process, some truckers are already achieving mileage close to the target that green groups want the EPA to set. Read more >
5/26/2015
New Environmental Study Urges "Caution" for Policymakers Considering Replacing Clean Diesel Trucks With Natural Gas Vehicles
By Steve Hansen
Washington, D.C. – A new study published today said that switching from diesel to natural gas in heavy-duty trucks could worsen and accelerate negative climate impacts unless methane leakage can be lowered. The study also outlined the need for increased data and new policies to lower methane leakage in order for natural gas heavy duty trucks to have a possible environmental advantage over new and future clean diesel trucks.
The study – "Influence of Methane Emissions and Vehicle Efficiency on the Climate Implications of Heavy-Duty Natural Gas Trucks" - was conducted by scientists at the Environmental Defense Fund (EDF) and Columbia University's Lenfest Center for Renewable Energy and published today in the journal Environmental Science and Technology. Read more >
5/18/2015
California Awards $15M for Alt-Fuel Trucks
By TruckingInfo.com
The California Energy Commission has approved nearly $15 million in grants for several projects that will fund alternative-fuel armored security trucks and refuse trucks in in the state.
North American Repower LLC was awarded $3 million to demonstrate the efficiency and viability of six armored security trucks converted from diesel fuel to plug-in hybrid electric-renewable natural gas.
Security protocols usually require armored vehicles to have their engines running during each scheduled stop, which burns fuel and emits pollutants. The demonstration vehicles, which have near-zero emissions, will operate in an all-electric mode during stop-and-go usage and in hybrid-mode during continuous vehicle operation, according to the California Energy Commission. Read more >
5/14/2015
Hidden Cost of Convenience: How Online Purchases Are Costing SoCal Communities
By Joel Grover and Matt Schrader
With the click of a mouse, you can now get almost anything delivered overnight from online retailers like Amazon, Zappos, Walmart and many others.
But that speedy convenience comes at a high price — it's creating worsening pollution for parts of Southern California and is possibly making thousands of people sick, an NBC4 I-Team investigation has learned. Read more >
5/14/2015
Bakersfield trucking company to pay large fine for air quality violations
By BakersfieldNow staff
BAKERSFIELD, Calif. (KBAK/KBFX) - A Bakersfield trucking company has settled with the state for violating air quality regulations.
Randy's Trucking Inc. will pay $524, 675 to the Air Resources Board. This is the largest ever settled for failure to comply with California's regulation to cut harmful diesel emissions, according to ARB.
Randy's Trucking failed to clean up its fleet according to the timetable set forth in the statewide Truck and Bus Regulation. The company also did not properly self-inspect its diesel trucks to ensure that they met state smoke emission standards.
ARB said Monday that Randy's Trucking will pay $392,755 to the Air Pollution Control fund to support air quality research and $130,920 to the San Joaquin Valley Air Pollution Control District to clean up school bus fleets throughout the state.
"It's vital for businesses to know that we can't relax our standards or make exceptions when it comes to protecting public health," ARB enforcement chief Jim Ryden said in a news release. "Fortunately fines this high are rare and company owners are being more proactive in making their diesel fleets compliant. Randy's Trucking has been cooperative and is working towards full compliance on an approved schedule that reflects their commitment to upgrading their equipment." Read more >
5/8/2015
$400k trucks? Overdrive talks to CCTA's Joe Rajkovacz about impact of emissions regs
By Matt Cole
A recent decision by a federal court denied the California Construction Trucking Association's appeal of the EPA's greenhouse gas standards based on a lack of standing.
The CCTA has been at the forefront of challenging EPA regulations on the trucking industry in California and nationally, and the group says the "EPA neglected to comply with a nondiscretionary statutory duty" to provide its greenhouse gas emissions standards to the Science Advisory Board, an expert body charged with providing scientific advice to EPA, prior to issuing them.
The U.S. Court of Appeals for the District of Columbia Circuit found CCTA was unable to demonstrate how it and truck buyers were actually harmed by the rule and how vacating it would provide them with relief. The CCTA says the new standards have increased the price of trucks, making them unaffordable for smaller businesses and truck owners. Read more >
5/6/2015
Siemens Starts eHighway Building
By Fleets&Fuels
A variety of trucks and designs have been proposed and numerous studies made of the concept, which is also known for the catenary or pantograph lines that would connect the trucks to the electrical grid (F&F, August 13, 2014).
"This first-of-its-kind system will use electricity delivered via overhead lines to electrify road lanes and provide clean and efficient power to trucks," Siemens Mobility president Kevin Riddett said in a blog post today. Read more >
5/6/2015
Freightliner unveils the first road-legal self-driving truck
By LA Freightliner
The Freightliner Inspiration Truck is the first licensed autonomous commercial truck to operate on an open public highway in the United States, showcasing what is possible through the energy of infinite inspiration.
The Freightliner Inspiration Truck is a realistic vision of the future, combining the latest technological developments already deployed in today's modern on-highway trucks with exciting breakthroughs in safety and connectivity that hold the promise to reduce highway congestion and improve the environment. Learn more >
5/5/2015
Los Angeles Mayor Eric Garcetti calls new port trucking firm Eco Flow a model for the industry
By Karen Robes Meeks
Nearly a week after Los Angeles and Long Beach port truck drivers picketed terminals, rail yards and trucking companies because they want to be considered employees and not independent contractors, Los Angeles Mayor Eric Garcetti announced Monday the creation of a short-haul firm that he says will become a new model for the trucking industry.
Standing among port truckers and the International Brotherhood of Teamsters at Dodger Stadium, Garcetti announced the formation of Ontario-based Eco Flow Transportation, which has been operating for a month and includes 80 employee drivers. Many of them formerly worked for Total Transportation Services, Inc., which allegedly misclassifies truckers as independent contractors instead of employees. Truckers say the designation allows companies to skirt labor laws and pay less-than-fair wages.
Eco Flow, in contrast, has the potential to grow to 500 employee drivers by next year, under an agreement with the Teamsters. Read more >
5/1/2015
California cities rank at the top of the list of the areas with the worst air pollution, according to the American Lung Association's "State of the Air" report for 2015.
Los Angeles-Long Beach ranked first on the list of highest pollution by ozone, while Fresno-Madera ranked at the top of the list by year round particle pollution and short-term particle pollution. This year's report has shown improvement over a year ago, said Harold Wimmer, the association's national president and chief executive.
"This year's report shows encouraging progress, evidence of the success of our long fight for cleaner, healthier air for all Americans," Wimmer said. "Paired with that progress is evidence of troubling challenges." Read more >
4/30/2015
There's a bill in Congress that would prohibit the Environmental Protection Agency from using "secret science" to impose regulations. Republicans supporting the bill say that EPA science needs to be more transparent and reproducible. Democrats that want the bill withdrawn say it would harm efforts to protect public health.
The House of Representatives passed its version of the Secret Science Reform Act, HR1030, in March. The Senate Environment and Public Works Committee is set to mark up various pieces of legislation on Tuesday, April 28, and its version of the Secret Science Reform Act, S544, is on the agenda.
Sen. John Barrasso, R-Wyo., introduced S544 in February, with Senate EPW Committee Chairman James Inhofe, R-Okla., Sen. David Vitter, R-La., and Sen. Deb Fischer, R-Neb., among the seven cosponsors. Read more >
4/30/2015
Report: Southern California's air some of the worst in U.S.
By Jim Steinberg
Despite progress, Southern California's air remains home to some of the worst air in the United States, the American Lung Association said Tuesday in its annual State of the Air report.
The Los Angeles-Long Beach area ranked no. 1 as the most ozone-polluted in the United States and fifth for year-round particle pollution, the report said.
The report raised the specter of drought and climate change as threatening gains since the report began 16 years ago.
"Los Angeles remains as the metropolitan area (nationwide) with the worst ozone pollution, as it has for all but one of the 16 reports, although it reported its lowest average year-round particles and fewest high ozone days in the report's history," said Janice Nolan, assistant vice president, National Policy and Advocacy, American Lung Association. Read more >
4/29/2015
LOS ANGELES (AP) - California would aggressively reduce greenhouse gas emissions by 2030 under a plan announced Wednesday that steps up the state's previously established target, which has cut emissions partly by forcing companies to pay for their carbon pollution.
Gov. Jerry Brown's executive order is loftier than a federal goal that also aims to curb global warming, but it gives the state more time to achieve it. Brown's plan lacks specifics, but he previously has cited increasing renewable electricity sources, reducing petroleum use in vehicles, doubling the energy efficiency of existing buildings and make heating fuels cleaner as ways to reduce emissions.
Brown set a target of reducing emissions to 40 percent below 1990 levels over the next 15 years and called it the most aggressive benchmark enacted by a government in North America.
"With this order, California sets a very high bar for itself and other states and nations, but it's one that must be reached - for this generation and generations to come," Brown said in a statement. Read more >
4/28/2015
Trucking Groups Lack Standing to Challenge EPA Heavy-Duty Truck Standards, Court Says
By Andrew Childers
April 24 — A federal appeals court dismissed challenges to the Environmental Protection Agency's greenhouse gas emissions standards for heavy-duty trucks after finding the petitioners lacked standing to bring their lawsuits.
The U.S. Court of Appeals for the District of Columbia Circuit found in an April 24 per curiam opinion that California trucking groups opposed to the EPA's greenhouse gas emissions limits on the grounds they could increase costs for vehicles failed to demonstrate how they were actually harmed by the rule and how vacating it would bring them relief. The EPA's greenhouse gas rule (RIN 2060–AP61) was issued jointly with the National Highway Traffic Safety Administration's corporate average fuel economy standards for medium- and heavy-duty trucks. Trucking groups, however, only challenged the EPA's portion of the standards.
Vacating the EPA's rule would leave the NHTSA standards in place, the court said in its decision. "Therefore, even were we to vacate the EPA standards, the NHTSA standards would still increase the price of vehicles," the court said. Read more >
4/27/2015
Truck drivers who haul goods from the nation's busiest port complex in Southern California walked off the job Monday in a dispute over their wages and employee status, months after another West Coast labor conflict cost major delays in billions of dollars of trade.
The move comes after a weekend vote from the Teamsters. "Several hundred" drivers from four companies at the ports of Los Angeles and Long Beach were striking, Teamsters spokeswoman Barb Maynard said during a Monday conference call.
The strike was not expected to shut down all business at the ports, where some 16,000 truckers haul cargo.
Maynard said the drivers have been victims of "persistent wage theft" from employers because they are treated as independent contractors instead of employees. Read more >
4/27/2015
Is Dirty Air Damaging the Brains of Some City Dwellers?
By Linda Carroll
City air pollution could hurt your brain, Harvard researchers suggested Thursday.
Brain scans showed that seniors exposed to higher levels of the kind of small particle pollution that can come from car exhaust had a higher risk of mini-strokes and a smaller brain volume compared to those living in less-polluted areas, according to the study published in the journal Stroke.
The new findings are "provocative," said the study's lead author, Elissa Wilker, an instructor of medicine at the Harvard Medical School and a researcher at the Cardiovascular Epidemiological Research Unit at the Beth Israel Deaconess Medical Center. In fact, dirty city air seems to cause the equivalent of a full year's worth of aging inside the brain.
"It suggests that subtle but potentially harmful effects are going on: The effect on the brain of being one year older is similar to the effect of pollution," she said. Read more >
4/23/2015
ARB joins feds, ports and air districts to beef up enforcement of clean diesel regulations
By dchelini@arb.ca.gov
SACRAMENTO - The California Air Resources Board (ARB) has teamed up with local and federal agencies to significantly increase enforcement of California's Heavy-Duty Diesel regulations statewide. These partnerships leverage ARB's ability to bring vehicles that are operating illegally into compliance and level the playing field for those that have already met requirements.
ARB currently has extended agreements with various local air districts and ports to enforce its diesel-related regulations. Through these partnerships, air districts can write citations for noncompliant vehicles and equipment subject to various diesel regulations, helping support extensive enforcement of the truck and bus regulation. ARB also recently developed an agreement with the United States Environmental Protection Agency for enforcement of rules for drayage trucks and aftermarket parts. Read more >
4/21/2015
The Greening of the World's Ports
By Erica Gies
VANCOUVER, British Columbia—On a bright, sunny March day, the industrial hubbub at the Port Metro Vancouver in British Columbia blends seamlessly with residential life playing out in the phalanxes of metal-and-glass apartment buildings that line both sides of Vancouver Harbor. People stroll in waterfront parks, taking in views of stacked shipping containers painted in primary colors and the dinosauric cranes that dot the port. Across the water in North Vancouver, giant piles of yellow sulfur and white salt sit dockside, waiting for shipment. The air smells fresh, the water looks clean, and a harbor seal surfaces, lolling by the white tents of Canada Place, the cruise ship terminal.
Not too long ago, the idea of a clean, green port would have been an oxymoron. The gateways to global commerce have ranked as some of the world's most polluting places, industrial behemoths spewing toxins into the air and water. Now, as globalization booms and more ships than ever are crossing oceans, some ports are working toward being more environmentally friendly—to people, wildlife, and the environment. Read more >
4/20/2015
Minnesota truckers and other interests sued Minnesota on Friday seeking to end the state's requirement that diesel sold at the pump contain 10 percent biodiesel.
The lawsuit filed in U.S. District Court in Minnesota alleges that the state mandate is in conflict with federal clean air and renewable fuels laws. The suit asks for a permanent injunction barring enforcement of the existing mandate and any future expansion of a higher biodiesel ratio.
In court papers, the 690-member Minnesota Trucking Association alleged that the mandate drives up the price of diesel fuel and forces trucking companies to ignore truck engine warranties that specify using no more than B-5, or 5 percent ­biodiesel.
Since 2009, Minnesota has required the blending of biodiesel, which is produced from soybean and industrial corn oils and waste oils from the food industry. Last July, the state blending ratio increased from 5 percent to 10 percent for part of the year, and eventually could rise to 20 percent. It remains at B-5 from October to March to reduce the risk of fuel thickening into jelly during cold months. Read more >
4/16/2015
Some governors push back over McConnell letter to defy EPA
By RIK STEVENS
CONCORD, N.H. (AP) -- Senate Majority Leader Mitch McConnell's call for governors to defy proposed federal rules to limit pollution has been met with mostly silence, but leaders in downwind New England states and drought-stricken areas in the West are pushing back.
The Kentucky Republican wrote to all the nation's governors in March after the Environmental Protection Agency proposed a rule to limit carbon pollution from existing coal-fired power plants. McConnell said he thinks the rule is illegal and, if enacted, would hurt the U.S. economy and kill energy jobs.
Democratic Vermont Gov. Peter Shumlin was blunt in his response to McConnell. Read more >
4/14/2015
Emissions Yesterday, Today and Tomorrow: Where We've Been
by Rolf Lockwood
After well over a decade of endless wrangling over emission-control technologies and nonstop complaints on the user side about cost and reliability issues, things have gone quiet on the engine front. It hasn't been this way since the U.S. Environmental Protection Agency started tinkering with things back in the 1990s.
In fact, the EPA was at it as early as 1974, though the broad and heavy crunch came later. It really began in 1997 when the EPA set the standard for model years 2004-06.
But after all the trouble and woe brought on then and later with the 2007 emissions regime, which linger on for many of you, the 2010-spec heavy-duty diesel has proved to be a huge improvement in terms of both reliability and fuel economy. Read more >
4/14/2015
Rebranding the EPA's clean air agenda
By Chris Horner
On Thursday, the U.S. Court of Appeals for the District of Columbia will hear an important case, Murray Energy v. EPA, regarding what used to be the Environmental Protection Agency's global warming agenda. At issue are sweeping rules that amount to rewriting the Clean Air Act, an effort made necessary when Congress, via the proper democratic process, rejected turning that act into a global warming law for rationing our most abundant sources of energy.
The reason behind Congress rejecting the scheme also explains President Obama's effort this past week to sway the court, indicating in an interview widely promoted by the White House that global warming possibly caused his daughter Malia's asthma.
This may seem a stretch given that since Malia was born in 1998, the earth has experienced no increase in mean temperature. Such a link is at best highly tenuous, particularly given that one of Malia's parents (Mr. Obama) was a smoker. Read more >
4/13/2015
California Energy Commission Grants Millions for Alt-Fuel Sector
by NGT News
The California Energy Commission (CEC) has approved a number of grants for the alternative fuels sector and given the OK to a 2015-2016 investment plan update for the commission's Alternative and Renewable Fuel and Vehicle Technology Program (ARFVTP).
In total, the CEC approved more than $83.7 million in grants and loans for 46 different energy-related projects.
For the alt-fuel sector specifically, it gave nearly $9 million to three awardees in Poway, the City of Industry and Milpitas to encourage the manufacturing of alternative fuel vehicles and vehicle components in California. Read more >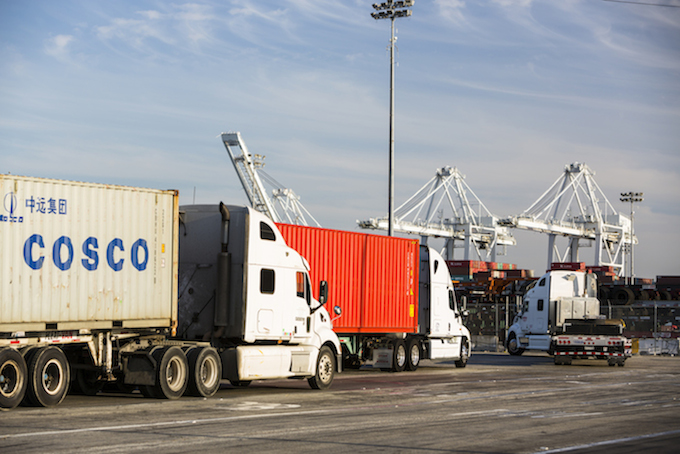 4/10/2015
California green port, truck, rail programs lauded in reducing emissions
by Bill Mongelluzzo
Green programs implemented by the port, trucking and rail industries in California have contributed mightily to harmful emissions reductions in the state over the past 20 years, according to a University of Southern California study published last month in the Journal of the Air and Waste Management Association.
The study covers pollution from all mobile sources, including the worst offender, private automobiles, and freight transportation-related emissions are but one piece of a larger picture. Nevertheless, the message for container ports, the trucking industry and intermodal rail operators across the country is clear: Emissions-reduction programs work.
For example, nitrogen dioxide, which is a by-product of engine combustion, decreased by 28 to 53 percent between 1994 and 2011 in communities from San Luis Obispo on the Central Coast to San Diego. Inhalable particulate matter, which are microscopic pieces of dirt floating in the air, decreased by 13 to 54 percent in the region. Those pollutants are directly linked to a host of respiratory illnesses such as asthma, heart disease and cancer. Read more >

4/8/2015
Oregon Looks to Catch Up with California's Standards on Diesel Engines
by Chris Gray
New diesel engines are very clean, but old ones linger in Oregon, and the state is at risk of becoming a dumping ground for trucks that California doesn't want, given its phase-out of older engines.
California passed regulations that will phase-out older, dirtier diesel engines from its roads and industrial areas by 2023.
Now Oregon is considering similar regulations -- not necessarily because the state is an environmental leader, but because it's at risk of becoming a dumping ground for all those engines that next-door-neighbor California doesn't want. Read more >
4/2/2015
CARB-Type Regs Could Spread to Other Jurisdictions
By Deborah Lockridge
California fleets that have had to fork over funds to buy new cleaner-burning trucks or retrofit with diesel particulate filters may well have a leg up over the rest of the country under the Environmental Protection Agency's upcoming rules.
That's according to my colleague Chris Brown, executive editor of HDT sister publication Business Fleet.
In a recent blog post, Brown points out that the federal government is tightening the Clean Air Act, and the new standards will catch in its net many more jurisdictions around the country. Read more >
4/1/2015
The proposed Phase 2 greenhouse-gas emissions rule for medium- and heavy-duty vehicles, originally planned for publication in March, has been delayed until June, the Environmental Protection Agency announced.
The proposal was sent for White House review on March 27, according to EPA's Regulatory Development and Retrospective Review Tracker.
The joint EPA-National Highway Traffic Safety Administration proposed rule will address fuel-efficiency standards for medium- and heavy-duty on-highway vehicles for model years beyond 2018 but likely would not take effect before 2020, according to EPA.
The Phase 2 rule will follow the first-ever greenhouse-gas emissions and fuel-efficiency standards issued in 2011.While the Phase 1 rule addressed engine technologies to reduce emissions, the Phase 2 rule is expected to include technologies for new trailers. Read more >
Spike In California Air Pollution Brings Reminder Of Bad Old Days
By Sharon Bernstein
KINGS COUNTY, Calif., March 27 (Reuters) - The brown haze over California's San Joaquin Valley breadbasket on some winter days has been an unwelcome reminder of the bad old days, when pollution hung so thickly that people were warned to stay inside.
Years of tight environmental rules improved California air quality so much that the state has not issued a smog alert in a dozen years. But prolonged drought and warmer temperatures have triggered a spike in the number of winter days thick with soot and dirt, while summer days have been marred by smog.
Read more >
3/30/2015
Personal accounts drive CARB hearings
By Betty Plowman
The coordination hearings that took place March 13-14 in Fairfield not only revealed that the California Air Resources Board failed to "coordinate" the implementation of its regulations on trucks with local governments, but they revealed that the board's regulations were arbitrary, unreasonable and are unsupported by scientific data.
CARB's duplicity and rigidity has devastated small businesses and families throughout the state and will continue to do so unless it is held accountable.
Personal testimonies of truckers during the hearings were heart-wrenching. Families that have been in the trucking business for generations, had paid for their equipment, built a successful business and planned for retirement are seeing it stolen from them by an out-of-control bureaucracy. Read more >
3/27/2015
New Bill Proposes $5,000 Fine For Diesels 'Rolling Coal'
by Jeff Cobb
A proposed law against diesel drivers who are caught "rolling coal" would fine them up to $5,000 for this increasingly popular practice of tampering with emission controls.
While some in the world are trying to go zero or partial zero emissions, others are finding it a new pass time to modify their trucks to spew heavy black soot and smoke in this practice reminiscent of an old time freight train. Read more >
3/24/2015
ATA Joins Suit Against Oregon's Clean Fuels Program
By Truckinginfo.com
The American Trucking Associations has joined a lawsuit against the state of Oregon to block the state's low carbon fuel standards. ATA joins the American Fuel and Petrochemical Manufacturers and the Consumer energy Alliance in the suit.
ATA is against the Oregon Clean Fuels Program, which it says unfairly benefits Oregon's biofuels industry and harms out of state refiners and producers. The program will regulate the entire carbon lifecycle of fuel sold in the state. ATA contends that would be in violation of the Commerce Clause. Read more >
3/23/2015
Paris will ban half of all cars from driving Monday to combat pollution
By Jon Terbush
Beset by worrisome smog, Paris on Monday will ban half of all personal vehicles from the streets, Mayor Anne Hidalgo said Saturday.
Only cars with odd-numbered plates will be allowed on the streets unless they are carrying more than three people. Electric and hybrid vehicles will still be permitted regardless of plate number, as will, of course, emergency vehicles. As for those who will be forced to leave their cars at home, public transit in and around the city will temporarily be free.
Last March, Paris imposed a similar one-day ban on half the city's cars. The new ban comes after the city's air pollution spiked high enough last week to (briefly) become the worst in the world. Read more >


3/20/2015
The California Air Resources Board is offering multiple classes for truck owners and drivers to learn more about the state's emissions regulations.
In an effort to help educate the trucking community about emissions rules compliance, CARB will host on-site classes and a few webinars that truckers and others can watch anywhere with an Internet connection.
CARB will host Course 514, Truck and Bus & Tractor-Trailer GHG Regulations Overview, Compliance and Reporting multiple times in March and April. Read more >
3/18/2015
Imports plunged at West Coast ports amid labor dispute
By Chris Kirkham
Months of congestion at West Coast ports -- the result of a labor dispute and other logistical problems -- led to major shifts in U.S. trade patterns.
Import data for the first two months of this year show that the volume of container cargo coming into West Coast ports plummeted nearly 18% compared with the same period last year, according to the trade research firm Zepol. At the same time, the amount of cargo coming into East and Gulf coast ports grew by 10%.
Import data for the first two months of this year show that the volume of container cargo coming into West Coast ports plummeted nearly 18% compared with the same period last year, according to the trade research firm Zepol. At the same time, the amount of cargo coming into East and Gulf coast ports grew by 10%. Read more >
3/16/2015
It isn't every day that a California Air Resources Board staff member can tell truck owners they may be able to spend less money than expected to comply with a state emissions regulation.
The good news explains the excitement coming through the phone line from CARB Staff Air Pollution Specialist Rod Hill concerning Transportation Refrigeration Units, or reefers.
"What we're trying to make sure happen is to make sure these folks are aware that engine replacement as a compliance option has gone away," Hill told Land Line Magazine. "The good news is, it's actually cheaper to retrofit than replace the engine."
"The compliance costs have effectively gone down," he said. Read more >
3/16/2015
FedEx, Walmart, Coca-Cola, PepsiCo and UPS — five of the country's biggest trucking fleets — could cut their fuel use by 500 million gallons a year under the new heavy duty truck fuel efficiency standard, saving $1.7 billion on fuel, according to a Union of Concerned Scientists study.
The EPA and National Highway Traffic Safety Administration are expected to announce the standard this spring.
According to the study, Engines for Change, if today's trucks met a 40 percent standard, oil use would be reduced by 9 billion gallons from shipping goods alone, saving truckers $30 billion in fuel costs and cutting more than 110 million tons of CO2 emissions.
Today's heavy-duty trucks get around 6 miles to the gallon. The freight fleet uses 21 billion gallons of fuel a year.
The report says technology exists to make new trucks 40 percent more efficient compared to 2010 levels, in a cost-effective way. Read more >
3/13/2015
Backyard burger and wiener roasts targeted by EPA
By Paul Bedard
The Environmental Protection Agency has its eyes on pollution from backyard barbecues.The agency announced that it is funding a University of California project to limit emissions resulting in grease drippings with a special tray to catch them and a "catalytic" filtration system.
The $15,000 project has the "potential for global application," said the school.
The school said that the technology they will study with the EPA grant is intended to reduce air pollution and cut the health hazards to BBQ "pit masters" from propane-fueled cookers. Read more >
3/9/2015
CCTA Will Appeal CARB Decision to Supreme Court
By Steven Martinez
The California Construction Trucking Association has stated it will appeal the decision handed down by the U.S. Court of Appeals for the Ninth Circuit that rejected CCTA's lawsuit challenging the legality of truck and bus regulations implemented by the California Air Resources Board.
This is the second time CCTA has lost a legal decision over this suit. The association originally filed suit in 2011 in state district court to stop the regulations from taking effect. In its argument, CCTA cited the Supremacy Clause of the U.S. Constitution and the Federal Aviation Administration Authorization Act. Read more >
3/5/2015
Truck Rules All Around? Tightening Ozone Standard May Squeeze On-Road Trucking Fleet in US.
By Matt Schrap
Lost within the debate over energy policy and climate change is the tightening ozone standard and how this may impact the on-road trucking fleet in many states across the county. The plan is under scrutiny from Congress, but not because it will impact truck fleets, but because refineries and power providers will more than likely face increased costs and possible layoffs.

A newly formed subcommittee called the Interior Subcommittee of the Oversight and Government Reform Committee has been tasked in part to keep a close eye on the Environmental Protection Agency. One thing they will be looking at besides keeping a watch on EPA management and the national park maintenance backlog will be the tightening Ozone standard. Read more >
3/5/2015
Improvement In Southern California Air Quality Results In Healthier Lungs For Children
By Dianne Depra
A 20-year study has found that Southern California children today are breathing easier than their counterparts thanks to cleaner air in Los Angeles.
In a study published in the New England Journal of Medicine, researchers for the University of Southern California Children's Health Study took lung measurements to determine levels of development in children 11 to 15 years old and discovered that those part of the study between 2007 and 2011 exhibited large improvements compared to children at the same age group who participated in the study between 1994 and 1998 as well as 1997 and 2001. Read more >
3/4/2015
The U.S. Just Got One Step Closer To Regulating Airplane Carbon Emissions
by Emily Atkin
The White House received a key recommendation from the Environmental Protection Agency on Monday which could determine whether the agency will place limits on greenhouse gas emissions from airplanes.
According to a report from The Hill, the EPA sent the White House's Office of Management and Budget its draft conclusion on whether carbon emitted from airplanes is cumulatively harmful to the environment. If the EPA's decides that airplane emissions are indeed harmful, then the agency will be required to regulate those emissions under the Clean Air Act.
After the White House reviews the EPA's conclusion, the agency can officially propose it to the public. That is expected to happen by May 2015, with a final decision expected to be made by 2016. Read more >
3/3/2015
TRU -- Engine replacement compliance option expires for model year 2008 and newer TRU (reefer) engines
By rhill@arb.ca.gov
Transport refrigeration unit (TRU) owners need to be aware that the engine replacement compliance option expires for model year
(MY) 2008 and newer TRU engines.

Repowering a TRU ceases to qualify as a compliance option when the replacement engine is no cleaner than the old engine being
replaced. Title 13 California Code Regulations (13 CCR), section 2477.5(i) stipulates that a replacement engine shall meet a more
stringent emissions standard than the engine being replaced. To evaluate if this limitation applies to their TRUs, TRU owners
need to determine what emission standard tier is met by the in-use engine being replaced and compare that to the tier
standard that is met by the cleanest replacement engine that will fit and perform in the TRU.

Examples follow:

1. Trailer TRUs or TRU generator sets equipped with MY 2008 through 2012 Tier 4i in-use engines rated at 25-50 hp: The only
replacement engine that will fit and perform is another Tier 4i replacement engine, which does not result in a cleaner
replacement engine. Therefore, the repower compliance option for MY 2008 to MY 2012 25-50 hp trailer TRU and TRU gen set engines
fails to qualify in 2015.

2. TRUs equipped with MY 2008 and newer Tier 4 in-use engines rated at less than 25 hp: The only replacement engine that will
fit and perform is another Tier 4 less than 25 hp replacement engine, which does not result in a cleaner replacement engine.
Therefore, the repower compliance option for MY 2008 and newer less than 25 hp TRU engines fails to qualify in 2015.

Please be aware of possible cases where TRUs manufactured in 2008 could still use the replacement engine compliance option if they
are equipped with Tier 2 engines:

Case 1: During the first quarter of 2008, TRU manufacturers may have installed MY 2007 engines that were manufactured in the last
few months of 2007, which met Tier 2 emission standards. This lag is allowed for normal production, shipping, and inventory
practices.

Case 2: TRU OEMs may have installed "flexibility engines" into TRUs manufactured during the remainder of 2008 and possibly 2009
for a limited number of engines. Flexibility engines that were installed in TRUs manufactured in 2008 and 2009 have an effective
model year of 2007 and met Tier 2 emission standards.

Flexibility engines have emissions labels that include the
following text: "SELLING OR INSTALLING THIS ENGINE FOR ANY PURPOSE OTHER THAN FOR THE EQUIPMENT FLEXIBILITY PROVISIONS OF 40 CFR 1039.625 MAY BE A VIOLATION OF FEDERAL LAW SUBJECT TO CIVIL
PENALTY."

In-use engines that met Tier 2 can be replaced by replacement engines that meet the cleaner Tier 4i emission standards to
qualify as a compliance option under 13 CCR section 2477.5(i).

It should also be noted that the engine replacement compliance option is not very attractive for TRUs manufactured in 2008 that
are equipped with MY 2007 engines or flexibility engines that have an effective model year of 2007 that must comply by the end
of 2015. Those replacement engines' effective model year is 2012, so the ULETRU compliance deadline would be December 31,
2019, which only results in about four years of compliance before the ULETRU in-use performance standard has to be met. For
example, if a trailer TRU that was manufactured in 2008 is equipped with an MY 2007 original engine, the compliance date is
December 31, 2015 (based on the unit manufacture year). If the owner chooses to repower the TRU with a Tier 4i replacement
engine, the effective model year of the replacement engine is 2012 (the last year that Tier 4i was in effect), and compliance
with ULETRU in-use standard would then be required by December 31, 2019 (seven years after the effective model year). In this
example, the operational life of the replacement engine would only be about four years (from late 2015 to the end of 2019).
What compliance options remain? Retrofitting with a Level 3 Verified Diesel Emissions Strategy (VDECS) may be something to
consider because Level 3 VDECS meet the TRU Regulation's ULETRU In-Use Performance Standard. Another option is to replace the
unit with a new unit.

A Q&A to this effect has been added to TRU Advisory 13-18 (starting on page 7) at:
http://www.arb.ca.gov/diesel/tru/documents/advisory_13_18.pdf .

Where can I get more information?

For general information about the TRU Regulation, the TRU Website is at:
http://www.arb.ca.gov/diesel/tru/tru.htm


2/26/2015
California scientists link tiny particles in car exhaust to heart disease
By Tony Barboza
A new study by California scientists has linked chronic exposure to microscopic air pollutants in vehicle exhaust to deaths from heart disease. The finding bolsters evidence that ultrafine particles, which are not regulated by state or federal environmental agencies, are a key contributor to health problems among people living near traffic.
Scientists analyzed health data from 2001 to 2007 on a cohort of more than 100,000 middle-aged women across California who had worked as school teachers or administrators. They used a computer model to estimate the levels of ultrafine particles the women breathed. Read more >
2/25/2015
Driverless big rigs: new technologies aim to make trucking greener and safer
By Greg Harman
In the opening of Steven Spielberg's 1971 film Duel, an impatient salesman gets stuck behind a rattling, soot-belching tractor-trailer on a lonely stretch of California highway. Just before the truck's driver is revealed to be a homicidal maniac, the salesman has time to gripe about the vehicle's billowing emissions. "Talk about pollution," he coughs as he is enveloped in the rig's thick, black smoke.
Pollution in the trucking industry has long been a public issue, and it's one that certainly didn't end when the first federal emission limits were introduced in 1974. For good reason: heavy- and medium-duty trucks, which include everything from ambulances and garbage trucks to cement mixers and semis, make up nearly a quarter of all US greenhouse-gas emissions from transportation, according to the US transportation department. Read more >
2/24/2015
In last week's column I identified critical mistakes California and its air resources board have made through the years.
My first personal concern arose in 1992. California unilaterally reduced allowable sulfur from 1,500 to 500 parts per million in diesel fuel. That reduction and other untested changes to the fuel formula resulted in fuel seals and hoses leaking and failure of injection pumps and o-rings. This had serious impacts for my construction business and everyone who used diesel-powered vehicles and equipment.
Next, despite warnings from many concerned scientists, the California Air Resources Board gave us the now-infamous gasoline additive MTBE (methyl tertiary butyl ether), which led to the poisoning of our groundwater. California was alone in ignoring the science warnings and was forced by substantial water poisoning to rescind the decision after major expense by the oil industry and all drivers. Read more >
2/23/2015
Truck Fleet Faces $523,675 Fine for Non-Compliance with CARB Rules
When They Find You, They Will Fine You...
By Matt Schrap
This month, CARB fined a Taft, CA based trucking firm over $500,000 for not complying with several HDD programs. Typically, fines of this size have been reserved for importers of non-compliant small engines or manufacturer and distributors of cleaning chemicals and supplies. This recent fine is a blatant signal that CARB is out there and stepping up enforcement activites on motor carriers operating in California.
Although it may take many weeks or sometimes months to reach a "settlement", truck operators should understand that all it takes is one violation to bring down the house. Read more >
2/19/2015
Natural gas trucking fleet could benefit economy, but has mixed environmental effects
By Kat Kerlin


Switching from diesel fuel to natural gas may hold advantages for the nation's heavy-duty trucking fleet, but more needs to be done to reach the full environmental benefits, according to a report released today from the Institute of Transportation Studies at the University of California, Davis, and Rice University.
With the so-called "shale revolution," the recent emergence of natural gas as an abundant, inexpensive fuel in the United States has raised the possibility of a larger shift in the level of natural gas used in transportation. The report examines the economic and environmental viability of such a shift, and whether it could enable a transition to lower carbon transport fuels. Read more >
2/18/2015
How did the port shutdown affect L.A. air quality?
By Tony Barboza


Dozens of ships backed up off the Los Angeles and Long Beach ports in recent days, unable to unload cargo because of a protracted labor dispute. Work resumed at the ports Tuesday, but the slowdown in shipping traffic raised concerns that emissions from waiting vessels would degrade Southern California air quality.
Here's what you need to know about how congestion at the nation's busiest port complex affects air quality. Read more >
2/17/2015
NOx, Ozone and Soot! Oh My!
By Matt Schrap

The industry is headed back down the regulatory road, whether we know it or not
In California, a good portion of the industry is still recovering from the first round of CARB imposed truck turnover requirements. With recent developments it is likely that more is still to come. In fact, portions of the industry are going to be facing down a whole new set of requirements within the next 10-12 years, maybe sooner.
With the imminent lowering of the Federal Ozone standard and most recently the SCAQMD estimating that it will not be able to meet 2015 PM standards, the industry is going to again be brought into the discussion for additional emissions reductions to help meet state, federal and local standards. In all honesty and speaking frankly, they never left the discussion or in other words, no rest for the weary. Read more >
2/12/2015
New mobile air pollution monitor being tested in Los Angeles
By Jed Kim


The ability to identify pollutants in the air is made difficult by changing conditions and the fact that harmful substances are usually invisible to the naked eye. A new vehicle being tested in Los Angeles may change how air monitoring occurs by providing real time data of toxic substances in the air. Read more >
2/10/2015
Southern California expected to miss 2015 deadline to curb soot
By Tony Barboza



Southern California is likely to miss a 2015 deadline to clean soot from the air, according to the region's chief smog-fighting agency, which approved a plan Friday blaming the drought for reversing a long-term decline in fine-particle pollution.
The plan approved by the South Coast Air Quality Management District's governing board on a 10-1 vote was criticized as weak by community activists and environmental groups. At a public hearing, they urged air quality officials to include stronger pollution controls to ensure the region meets the federal standard for fine particulate matter, or soot, on time. Read more >


2/4/2015
Polluting Diesel Big Rigs, Forced from California, Head for Oregon
By Ken Broder

California truckers are being forced to get rid of older, polluting diesel big rigs that don't meet the state's new emissions standards. That's good news for Californians who value breathable air, and bad news, in the short term, for Oregon and other nearby states.
All of California's pre-2010 trucks—around 350,000, according to The Oregonian—have to leave the state by 2023, but some had to make a January 1 deadline. Although the Oregon Department of Transportation apparently does not have data readily available on ownership changes of polluting big rigs, everyone knows they are already rolling their way. Read more >
2/3/2015
Richard Coyle Takes Helm of California Trucking Association
By Transport Topics

Richard Coyle, president of West Sacramento-based Devine Intermodal, has been appointed president of the California Trucking Association.
Coyle's rotating appointment recently was announced at the association's annual meeting in Monterey, California.
Coyle, a 26-year veteran of the trucking industry with extensive experience in international ocean transport, holds an international relations degree from Stanford University. Read more >
1/30/2015
A Superior Court judge on Thursday ruled that truck drivers in the ports of Los Angeles and Long Beach are employees, not independent contractors, and that seven of them are owed more than $2 million in damages.
The ruling, which comes after two years of legal wrangling and five strikes by drivers and their supporters, is a coup for labor activists and the International Brotherhood of Teamsters, which in recent months has helped bring several labor disputes to court. Read more >
1/28/2015
Running on empty: California looks at hitting motorists with a mileage fee as gas tax revenue falls
By Evan Bleier for MailOnline

Plummeting gas tax revenues have led California to consider imposing a fee on motorists for each mile they drive.The number of electric, hybrid and fuel-efficient vehicles on the state's roadways has increased in recent years, leading motorists to use less and less gas.
The reduction in gas consumption has led to a reduction in gas tax revenues for the state. California collects a 2.25 per cent sales tax on gasoline and a 9.67 per cent tax on diesel. Read more >
1/27/2015
Diesel pollution cut at Port of Oakland
By Mike Hornick

The mean emission rate of black carbon from diesel trucks at the Port of Oakland dropped 76% from 2009 to 2013, a California study finds.The improvements in air quality are linked to a port program to modernize trucks.
In addition, the average emission rate for nitrogen oxides declined 53%. Read more >
1/20/2015
CARB fines four for fuel switch failures
By MarineLog.com

— The California Air Resources Board has fined four shipping companies a combined $146,719 for failing to switch from bunker fuel to cleaner, low-sulfur marine distillate fuel upon entering Regulated California Waters – within 24 nautical miles of the California coast.
Adopted in 2008, the Ocean-Going Vessels Fuel Rule was designed to reduce fine particulate pollution, oxides of nitrogen and sulfur oxide emissions from ocean-going vessels to improve air quality and public health in California. Read more >
1/19/2015
Diesel truck dilemma threatens Sacramento church's food program
By Mike Luery

SACRAMENTO, Calif. (KCRA) —California leads the nation -- and the world -- when it comes to reducing carbon emissions.
And this year, the state is targeting diesel trucks -- specifically older models made before 1996, which have the dirtiest engines and contribute to global warming.
Caught in the crosshairs is a Sacramento food ministry program that is helping to feed people in need. Read more >